May 2023 – IMPACT
Inside the Newsletter:
IMPACT 2022 | Hiring | Wastewater Conservation Training | Metal Fabrication | Salt Symposium | MPCA Survey
MnTAP IMPACT for Minnesota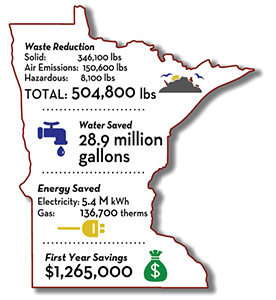 MnTAP was again honored with the opportunity to work throughout Minnesota providing source reduction technical assistance for businesses and organizations. Whether supporting 16 MnTAP Intern Projects, providing needed services to 430 organizations, working with numerous student researchers, or directly supporting businesses through 104 site visits, we are pleased to collaborate with our partners to improve environmental and economic outcomes throughout the State. The results of our work for 2022 are summarized in the 2022 MnTAP IMPACT annual report.
Highlights of MnTAP's 2022 efforts include:
52 facilities implemented recommendations
77 recommended process changes saved:

28.9 million gallons of water
500,000 pounds of waste
5.4 million kWh of electric energy
136,700 therms of fuel energy
$1,27,000 first-year savings.
Additional Activities Included:
100 wastewater ponds were assessed and operators were trained on strategies to optimize nutrient
83,000 lbs/yr implemented TCE reduction with 30,000 lbs/yr replaced with low hazard options
7 tons of nutrient discharge to wastewater was reduced through industrial source reduction
8 metal fabrication sites modified operations to save 16,000 lbs. haz. waste and $660,000/year
Providing Technical Assistance for All Minnesota
MnTAP continues to make the effort to provide onsite technical assistance for pollution prevention, energy efficiency and water conservation to organizations across the entire state of Minnesota. For the five-year period 2018 through 2022, MnTAP provided technical assistance for over 1,700 facilities. The economic impact of the implemented waste, water and energy source reduction projects totaled $5.6 million in first-year savings.
In addition to our intentional effort to reach out across the entire state, MnTAP supports the Minnesota Pollution Control Agency's commitment to "ensuring that pollution does not have a disproportionate impact on any group of people." In 2022, MnTAP conducted technical assistance activities at 41 facilities located in Minnesota areas of environmental justice concern as defined by the MPCA. MnTAP will act on our commitment to provide pollution prevention technical assistance in environmental justice communities by responding quickly to requests for assistance, seeking outreach opportunities and promoting project activities that have the potential to positively impact environmental outcomes in these areas.
MnTAP is Hiring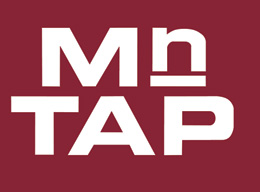 After 12 years as MnTAP's Director, Laura Babcock is stepping away from the role. MnTAP is seeking an outstanding candidate for the role of MnTAP Director to lead the organization in the next stages of source reduction technical assistance for Minnesota. The role of the director is to provide oversight and management of all aspects of the MnTAP program including financial support, staff hiring and supervision, program direction and focus, external partner collaboration and coordination, and technical assistance.
Several important responsibilities of this position include:
Provide oversight for all aspects of MnTAP operations
Develop proposals and manage grants to support staff effort and maintain MnTAP operations
Maintain a broad collaborative network for program coordination and new project development
Incorporate environmental justice in all program activities
Create an effective organizational structure to assist MnTAP staff in meeting organization objectives
Maintain expertise in areas of pollution prevention, water conservation and energy efficiency
Serve as a technical resource for businesses while developing new technical assistance strategies
For more information see the position description.
Engineers
Are you looking to make a real difference for Minnesota businesses and the environment? Join our team. MnTAP is seeking an enthusiastic, mission driven colleague to join our team.
The Minnesota Technical Assistance Program (MnTAP) is an outreach and assistance program at the University of Minnesota that helps Minnesota businesses develop and implement industry tailored solutions that prevent pollution at the source, maximize efficient use of resources, and reduce energy use and cost. This position reports to an Engineer and provides engineering technical assistance and support focused on eliminating the cause of pollution or excess resource use at the source. The position will initially focus on joining the Wastewater Energy Efficiency Cohort Training Program project team to assist with outreach, training, and reporting tasks.
Provide technical assistance for pollution prevention, water conservation and energy efficiency
Serve as a technical resource for businesses while developing expertise in target industry sectors
Conduct site visits and coordinate MnTAP interns to deliver technical assistance
Supervise student intern and manage collaborative partner research projects
Review and update business resources to promote industrial conservation opportunities
Conduct technical training and give technical presentations in areas of expertise
If you have ever considered making a change in order to see positive impact from your work, this opportunity could be for you.
MnTAP and the University of Minnesota recognize and value the importance of diversity and inclusion in enriching the employment experience of its employees and in supporting the academic mission. We are committed to attracting and retaining employees with varying identities and backgrounds. The University of Minnesota provides equal access to and opportunity in its programs, facilities, and employment without regard to race, color, creed, religion, national origin, gender, age, marital status, disability, public assistance status, veteran status, sexual orientation, gender identity, or gender expression.
For More Information Contact
Wastewater Energy Efficiency Training Program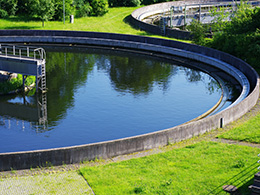 MnTAP is implementing a previously developed cohort training curriculum for WWTP operators to identify and implement low and no cost improvements that reduce energy consumption at WWTPs, without sacrificing plant effectiveness at meeting discharge limits. The target audience for this training program include lead wastewater treatment plant operators at municipal mechanical treatment WWTPs with plant flowrates up to 10 MGD. Each training is conducted with a cohort of participants from regionally located WWTPs that attend four modules and two conference calls.
2022 Activities
Revised training resources after Cohort 1 to incorporate attendee recommendations
Completed 2 cohort trainings for 12 wastewater operators from eight treatment plants
Connected 3 sites with funding opportunities and advanced technical assistance to support implementation
For 2022, there were 20 recommendations for energy efficiency identified across 8 participating wastewater treatment facilities. These recommendations resulted in the following energy opportunity. Implementation of the recommendations is in progress and follow-up with facilities will provide any needed technical support.
| Program Year | Identified (kWh) | Identified Cost Savings ($) | Implemented (kWh) | Implemented Cost Savings ($) |
| --- | --- | --- | --- | --- |
| 2022 | 3,336,000 | $274,000 | 563,000 | $48,000 |
| All Years | 5,350,000 | $431,000 | 981,000 | $79,700 |
Several common recommendations have been identified as opportunities for energy use reduction at facilities participating in the training program. The first is to reduce aeration operations to match system requirements. Over-aeration does not improve treatment; however, it uses a lot of energy. The second is to reduce mixing to match system requirements. For wastewater facilities looking for energy savings, optimizing these two areas is a great place to start.
What They Said
"The training is well worth the time and effort it takes to learn how to be more efficient and effective at reducing power requirements with equal to or greater [treatment] results."
Charlie Gammon, Wastewater Supervisor, Brainerd Public Utilities
Jon Vanyo – MnTAP Engineer
612-624-4683
jvanyo@umn.edu
Metal Fabrication: Identifying and Sharing Best Practices

This project seeks to identify pollution prevention priorities for the metal fabrication and metal finishing industries through informational interviews with practitioners, vendors, and other industry stakeholders. Site assessments and intern projects support implementation of best practices and identify additional improvement opportunities.
MnTAP has had the opportunity to interact with many industry partners throughout this project. Most of our work has focused on sharing information about metal fabrication and finishing best practices. There has been a lot of interest in material and cost savings opportunities within the metal finishing industry. The MnTAP pollution prevention recommendations made during this project yielded cost savings opportunities for long established best practices that the industry may not fully appreciate.
Takeaways from TA Visits
Businesses are aware of common P2 best practices, but may need to be reminded of the value
P2 providers need to clearly share the full potential cost savings of P2 practice implementation

Water conservation – water and energy cost savings
Dragout reduction – chemical and wastewater cost savings

Checklists can be helpful to walkthrough standardized processes with businesses
To further amplify the findings from the project, MnTAP presented a webinar to share best practices and outcomes from this industry focused pollution prevention project. The webinar highlighted the impact of many long-standing P2 practices that have been known within the industries but may be undervalued in their potential to reduce both pollution and costs. The webinar shared stories from companies that received technical assistance from MnTAP during the project. If you missed the webinar or would like to share it with a colleague, it is posted on the MnTAP P2 in Precision Manufacturing and Metal Fabrication webpage.
An additional resource has been created to share the results of industry informational interviews focused on Minnesota metal fabricators. The summary of these interviews has been posted on the project website to identify current trends, challenges, best practices, and opportunities for pollution prevention. Areas that may present pollution prevention opportunities for many businesses in the sector include the following:
Optimizing metalworking fluid use to minimize waste
Assessing metalworking fluids for hazardous ingredients in products such as cutting fluids
Optimizing water softeners for chloride reduction
Optimizing material utilization and avoiding solid waste
Reducing GHG through energy efficient operations such as compressed air
Kelsey Klucas – MnTAP Engineer
612-624-4619
kluc0035@umn.edu
Salt Symposium 2023 – August 1 – 2 Online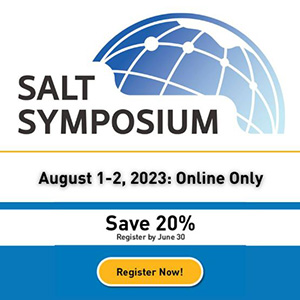 Stay current in the chloride conversation!
You're invited to the 2023 Salt Symposium! The Salt Symposium celebrates the optimization of salt use to improve community sustainability and protect vital freshwater systems and infrastructure.
Free MPCA Smart Salting training included!
For more information and the draft agenda visit the 2023 Salt Symposium website.
Input Requested by MPCA on Minnesota's Management of Materials and Waste
The Minnesota Pollution Control Agency (MPCA) is in the process of developing the 2023 Solid Waste Policy Report, a report submitted to the Minnesota Legislature every four years. The report provides an overview of the current state of materials management and solid waste management throughout Minnesota and outlines opportunities and policy recommendations to reduce the environmental and climate impacts of these systems.
Share Your Feedback
In preparing a list of recommendations, the MPCA would like your feedback on your top priorities or topics of most interest or concern. The MPCA is interested in your recommendations on:
The connection between climate and management of materials and solid waste
The environmental and climate impacts of demanding or consuming materials and products·
Minnesota's generation and management of materials and waste at end-of-use
Other topics related to source reduction, reuse, recycling, organics, and waste management.
Click on the link below to access the form to record your thoughts, then click on the "Submit" button at the bottom of the form.
Deadline: The MPCA is gathering feedback via this form until May 31, 2023.
How will your response be used?
The recommendations in this report go to legislators for possible legislation, to state agencies to guide decisions for staff and resource allocations, and to others in the materials management and solid waste fields to expand this work. Submitting a response through this form does not guarantee your idea will become an official recommendation, but all submissions will be reviewed by MPCA staff and considered if it is a part of the agency's scope of work.
Thank you in advance for your input!