November 2023
Inside the Newsletter:
2023 Solutions | Water Efficiency Projects | Waste Reduction Projects | Energy Saving Projects
2023 Solutions for Minnesota Businesses!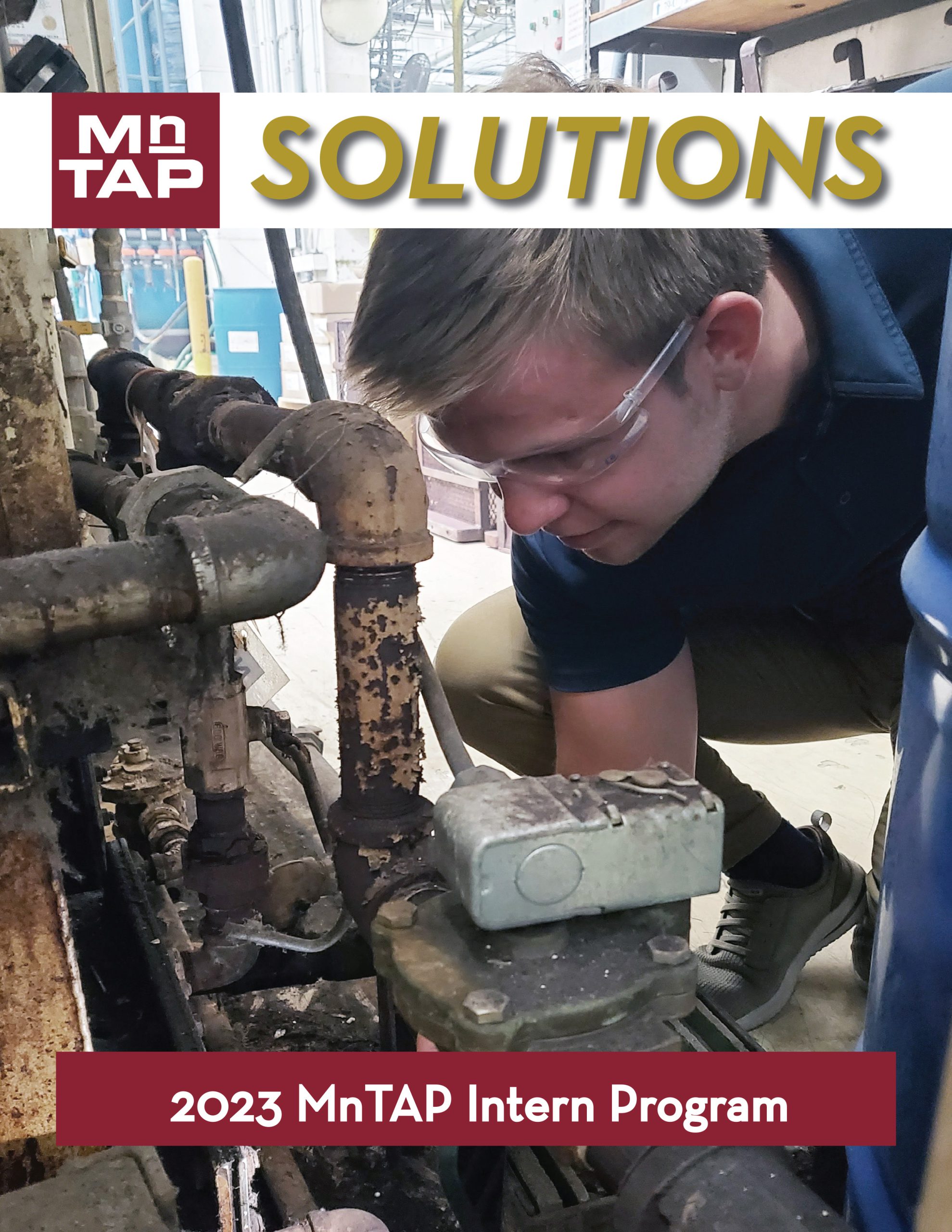 MnTAP is proud to announce the publication of 2023 Solutions. This annual report highlights the results from our summer internship program. This year, our group of 17 talented and industrious interns identified environmental reductions and process improvements that could save their companies:
68,000,000 gallons of water, saving $542,000
1,240,000 kWh electricity, saving $156,000
718,000 therms of energy, saving $572,000
3,600,000 pounds of waste, saving $729,000
80,100 pounds of chemicals, saving $133,000
Combined, these reductions have the potential to save companies $2,132,000 annually!
These results translate into real environmental impacts equivalent to eliminating CO2 emissions from 800 passenger vehicles and powering 130 Minnesota homes. Saving water equivalent to the water use for approximately 3,000 Minnesota residents and eliminating 160 55-gallon drums of chemical use.
We hope that as you read about the 2023 MnTAP intern projects and the results achieved, you will be inspired to contact MnTAP to learn how your company can benefit from having an intern at your site to maximize resource efficiency, increase energy efficiency, reduce costs, and prevent pollution.
Now is the Time to Apply for YOUR 2024 Intern!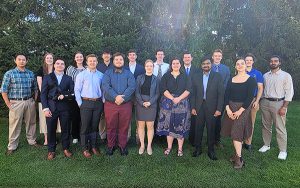 The MnTAP intern program pairs manufacturing, food processing, hospitality and other facilities in Minnesota with a college student who researches and recommends water conservation, energy efficiency and pollution prevention solutions. MnTAP interns have helped identify opportunities that save participating companies millions of dollars annually.
If your company could use another set of eyes to achieve similar results, now is the time to start thinking about developing a project for the summer of 2024. We anticipate supporting 15-18 projects that could focus on water conservation, energy efficiency, paint efficiency, solid waste, and pollution prevention.
Applications are currently being accepted and will be reviewed upon receipt. Companies will be contacted by MnTAP technical staff within two weeks for additional project development and scoping. Although applications are accepted through January 2024, companies are encouraged to apply by the end of 2023 to provide enough time to scope a well-defined project at their facilities.
For more information about the intern program or the application process, visit the MnTAP Intern Program webpages for Businesses. Use the Apply link  to go directly to our project proposal form.
For More Information, Contact:
Matt Domski – Intern Program Manager
612-624-5119
mdomski@umn.edu
Water Efficiency Projects
The impacts of consuming water can add up quickly for companies, given that the true cost of water encompasses more than just paying for water supply. Processes such as purification, heating and cooling, as well as pumping and discharge pre-treatment can all have an impact on a company's bottom line. With economic and environmental impacts in mind, 2023 interns identified ways to conserve more water through facility maintenance, upgrading to more efficient equipment, and process modification solutions.
Lucas Clark Burnette
Civil & Environmental Engineering – University of Minnesota Twin Cities
Thomas Leibert
Chemical Engineering – University of Wisconsin Madison
Waste Reduction Projects
Waste streams can vary widely across industries, as can the approaches to identifying source reduction and diversion solutions. MnTAP Interns investigated a variety of waste sources in 2023, with some key similarities across projects. Multiple interns tackled food waste opportunities in the healthcare and grocery industries by completing waste audits, sorts and working closely with facility staff and vendors. Along with food, source reduction and diversion opportunities were identified for other waste streams such as manufacturing by-products, wastewater sludge, and vapor degreasing chemical. Minimizing waste is not only good for our communities and the environment, it also has potential to save businesses money through reduced purchasing, processing and disposal costs.
Olivia D'Sousa
Industrial & Systems Engineering – University of Minnesota Twin Cities
Sean Sticha
Mechanical Engineering – University of St. Thomas
Energy Efficiency Projects
Energy efficiency is a significant focus area for many MnTAP interns. Projects can focus directly on energy assessments, where recommendations can be made for equipment or process improvements. Interns often find that energy savings can also be embedded within the results of other types of recommendations, such as those made around water conservation or process efficiency. Whether large or small, energy savings by MnTAP interns often help financially justify process changes that are recommended for improved environmental performance.
Daniel Monaghan
Chemical Engineering – University of Minnesota Twin Cities
Allicia Petrich
Chemical Engineering – University of Minnesota Duluth