December 2021
Inside the Newsletter:
2022 Business Applications | MnTAP Hiring | Tools & Calculators | Cohort Energy Project | Funding Opportunities

Apply for Your MnTAP Intern Today!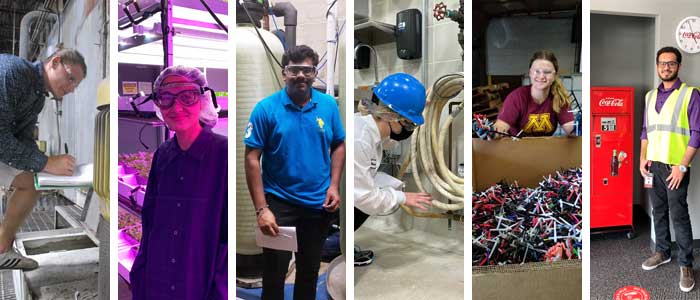 By asking the right questions and doing the research, our intern was able to develop quite a few cost-saving ideas with substantial ROI. Overall, our experience with MnTAP was extremely positive!
Don't be left out in the cold – summer will be here in a flash. Make sure your site has the opportunity to save money, resources and improve your sustainability reporting, apply for a 2022 MnTAP Intern TODAY! The interns from summer 2021 identified and launched implementation of significant pollution prevention, water conservation and energy efficiency projects at their companies. Result opportunities identified from the 14 projects include the following.
$1,078,000 annual cost savings
630,000 pounds of waste and 130,000 pounds of chemicals reduction
4,000,000 kWh and 200,000 therms of energy efficiency
24,000,000 gallons of water conservation
Hiring a MnTAP Intern is a great way to add an extra person to resolve some of those stubborn waste, water or energy utilization challenges in your facility that you just do not have the time to tackle. Don't take our word for it. Here is what some of the hosts from the 2021 program had to say.
Our intern's enthusiasm and ability to cater to the unique needs of our operation left us impressed and eager to implement the recommendations. We look forward to seeing real time results and building upon this foundation.
The intern was dedicated to solving the challenges preventing us from making [one line] into a fully capable production area …we expect to have many of the recommended solutions implemented by the end of 2021.
They were able to identify significant water conservation and annual savings for our company. Our experience with this program was a very positive one and we would definitely participate in this program again.
Apply
MnTAP's Intern Page
For More Information, Contact:
Matt Domski – Intern Program Manager
612-624-5119 or 800-247-0015
mdomski@umn.edu
MnTAP is Hiring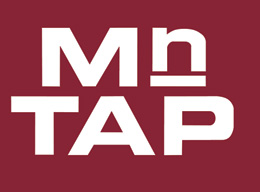 Are you looking to make a real difference for Minnesota businesses and the environment? MnTAP is seeking two enthusiastic, mission driven colleague to join our team. If you have ever considered making a change in order to see short and long term positive impact from your work, this opportunity could be for you.
Engineer
MnTAP is seeking great candidates for an Engineer role. This position provides technical assistance for pollution prevention, water conservation and energy efficiency. In this role you will serve as a technical resource for businesses and hone expertise in target industry sectors. Work involves conducting site assessments, coordinating MnTAP Intern projects and managing collaborative research projects.
Apply Today
Materials Management
MnTAP is also seeking a great candidate to support our sustainable materials management efforts (SMM). The successful candidate will coordinate the Minnesota Materials Exchange (mnexchange.org), provide technical assistance to Minnesota businesses and organizations to minimize waste through source reduction, reuse, recycling and food waste reduction. In this role you will serve as a technical resource, conduct site assessments, coordinate MnTAP Intern projects and manage collaborative research projects.
Apply Today
The Minnesota Technical Assistance Program and the University of Minnesota recognize and value the importance of diversity and inclusion in enriching the employment experience of its employees and in supporting the academic mission.  We are committed to attracting and retaining employees with varying identities and backgrounds. The University of Minnesota provides equal access to and opportunity in its programs, facilities, and employment without regard to race, color, creed, religion, national origin, gender, age, marital status, disability, public assistance status, veteran status, sexual orientation, gender identity, or gender expression.
Tools & Calculators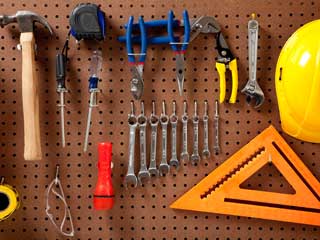 MnTAP has posted three new tools and resources on our website designed to help your business conserver water and use less energy.
Industrial Water Efficiency Optimization Search Tool
The Industrial Water Efficiency Optimization Search Tool provides a way to search water conservation recommendations made by MnTAP Interns over the past 10 years. This search tool allows users to search a database of industry-specific water efficiency recommendations to identify high volume, high value water efficiency options for replication. The search tool interface allows users to input industry sectors, operations or key words to retrieve a list of well-defined water efficiency actions relevant to the search terms.
Industrial Water Tool
Irrigation Tool
A recently completed Irrigation Tool can help your facility optimize water used at your site for irrigation. This tool connects with county land parcel data to calculate the total irrigation area of a site. The output file contains areas (in square feet) for the entire parcel and for each distinct land use contained in that parcel. The output data is the irrigation area and the irrigation amount. The irrigation area is a summation of the grass/shrub, deciduous tree canopy, and coniferous tree canopy areas and is a good approximation for what needs to be irrigated on the parcel. The irrigation amount is the estimated amount the site needs to irrigate per year assuming 5 months of irrigation and that the turf needs 0.25 inches of irrigation per week. These assumptions are a reasonable starting point for making irrigation recommendations.
Irrigation Tool
Best Practices for Commercial Refrigeration Systems
Best Practices for Commercial Refrigeration Systems can help small grocery stores, convenience stores and other sites that maintain and manage refrigeration systems minimize energy use and maximize the useful life of this critical equipment. This comprehensive guide to general refrigeration system operation and maintenance addresses common equipment issues and provides owners advice on operating their refrigeration system as efficiently as possible, focusing on practices with little or no capital cost. It offers instructions that site staff can follow for basic maintenance and inspections, and allows owner/operators to recognize and request service sooner for issues that require technician servicing. A monthly checklist and data log for refrigerant tracking is also provided. Implementing these practices will help sites with small refrigeration systems improve their system efficiency for the cost of a small amount of time each month.
Refrigeration Best Practices Tool
Chloride Reduction Best Management Practices
The Chloride Reduction Best Management Practices can help reduce chloride discharge in industrial wastewater effluent from water softeners. This work compiled a list of industrial water softener best practices and created a flowchart for operations that should be considered during a water softener audit. In addition to the audit resources, information is provided on conducting an elution study to assess the effectiveness of system regeneration, calculating the capacity and efficiency of a softener and alternatives to water softening.
Industrial Chloride BMPs
Wastewater Treatment Energy Efficiency Training: Huge Success!
MnTAP completed the first wastewater treatment energy efficiency training cohort for mechanical wastewater treatment facilities in November 2021. The continuing education program trained operators from five southeastern Minnesota wastewater facilities in energy efficiency strategies that are accessible through operational changes.
Attendees in this first cohort will save an average of 182,580 kWh and $15,400 per plant each year. Combined, these reductions will save these five treatment plants $77,000 annually! Cohort 1 operators found the following aspects of the course most useful:
"Tips and ideas to cut energy costs."
"Learning what to look for as we get into our plant upgrade."
"Being able to see potential savings."
MnTAP is in the process of planning for the second and third wastewater energy efficiency cohort trainings scheduled to begin in February 2022. Contact MnTAP for information on how to receive up to 16 direct wastewater contact hours and learn about ways your City can save energy by optimizing wastewater operations.
For more details on the program, check out the Cohort Training website and complete the no obligation inquiry form or contact Kira Peterson at kira@umn.edu for more information.
Funding Opportunities
MPCA Grants for Waste Reduction and Reuse
The Minnesota Pollution Control Agency (MPCA) is offering Environmental Assistance (EA) grants for projects working to expand waste reduction and reuse, rental, and repair efforts around the state. These strategies have the potential to reduce greenhouse gas emissions and other pollutants, reduce the demand for resource extraction, and reduce the amount of waste sent to landfills. By extending the useful life of existing materials and strengthening trained skillsets in repair, reuse also supports the local economy and increases access to products and services.
Apply now! Deadline is January 5, 2022
To learn more about this grant opportunity and download the application forms, visit the MPCA web site. Email grants.pca@state.mn.uswith questions no later than 4:00 p.m. Central Time on Jan 3, 2022.
Greater Minnesota Recycling and Composting Grant FY22
Counties, cities, townships, and federally recognized tribes in Minnesota located outside the Twin Cities seven-county Metropolitan Area are encouraged to apply for this Greater Minnesota recycling and composting grant opportunity. These grant funds will help reduce the amount of recyclable materials entering landfills by helping communities establish best practices to improve local reuse, recycling, or composting program efficiency and effectiveness. Total funding is approximately $1 million.
Deadline for application: January 11, 2022 (2 p.m.)
To learn more about this grant opportunity and view and recording of an informational session, visit the MPCA website.
Loans for Trichloroethylene (TCE) Reduction
The MPCA has made up to $250,000 in Small Business Environmental Improvement Loans available at zero-percent interest to small businesses for installation and equipment purchases associated with a switch from the use of trichloroethylene (TCE) to an alternative demonstrated to be less toxic.
Qualified borrowers must be an existing small business corporation, sole proprietorship, partnership, or association with less than 500 full-time employees, after-tax profit of less than $500,000, and a demonstrated ability to repay the loan.
See Loans for trichloroethylene reduction web page for eligibility requirements, loan terms, and application form.