November 2021
Inside the Newsletter:
2021 Solutions | MnTAP Hiring | Kira Peterson | Cohort Energy Project | Funding Opportunities

2021 Solutions for Minnesota Businesses!
MnTAP is proud to announce the publication of the 2021 MnTAP Solutions. This annual report highlights the results from our summer internship program. This year our group of 14 talented and industrious interns identified environmental reductions and process improvements that could save their companies:
24,000,000 gallons of water, saving $74,000
4,000,000 kWh electricity, saving $430,000
630,000 pounds of waste, saving $410,000
190,000 pounds of chemical waste, saving $90,000
200,000 therms of energy, saving $90,000
$14,000 in production impacts
These results translate into real environmental impacts equivalent to eliminating CO2 emissions from 220 passenger vehicles and powering 390 Minnesota homes. Saving water equivalent to the water use for approximately 1,000 Minnesota residents. Eliminating nearly 400 fifty-five gallon drums of chemical use.
We hope that as you read about the 2020 MnTAP intern projects and the results achieved, you will be inspired to contact MnTAP to learn how your company can benefit from having an intern at your site to maximize resource efficiency, increase energy efficiency, reduce costs, and prevent pollution.
Now is the Time to Apply for YOUR 2022 Intern!
If your company could use another set of eyes to achieve similar results, now is the time to start thinking about developing a project for the summer of 2022. We anticipate supporting up to 15 projects that could focus on water conservation, energy efficiency, paint efficiency, solid waste, and pollution prevention.
Applications are currently being accepted and will be reviewed upon receipt. Companies will be contacted by MnTAP technical staff within two weeks for additional project development and scoping.
Although applications are accepted through January 2022, companies should apply by the end of 2021 to provide enough time to scope a well-defined project at their facilities.
For More Information, Contact:
Matt Domski – Intern Program Manager
612-624-5119
mdomski@umn.edu
MnTAP is Hiring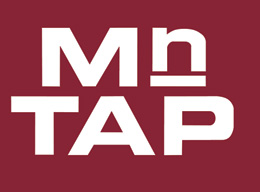 Are you looking to make a real difference for Minnesota businesses and the environment? Join our team. MnTAP is seeking an enthusiastic, mission driven colleague to join our team.
The Minnesota Technical Assistance Program (MnTAP) is an outreach and assistance program at the University of Minnesota that helps Minnesota businesses develop and implement industry tailored solutions that prevent pollution at the source, maximize efficient use of resources, and reduce energy use and cost. This position reports to a MnTAP Senior Engineer and provides engineering technical assistance and support focused on eliminating the cause of pollution or excess resource use at the source for businesses throughout Minnesota. Several important responsibilities of this position include:
Provide technical assistance for pollution prevention, water conservation and energy efficiency
Serve as a technical resource for businesses while honing expertise in target industry sectors
Conduct site visits and coordinate MnTAP interns to deliver technical assistance
Supervise student intern and manage collaborative partner research projects
Review and update business resources to promote industrial conservation opportunities
Conduct technical training and give technical presentations in areas of expertise
If you have ever considered making a change in order to see positive impact from your work, this opportunity could be for you.
The MnTAP and the University of Minnesota recognize and value the importance of diversity and inclusion in enriching the employment experience of its employees and in supporting the academic mission.  We are committed to attracting and retaining employees with varying identities and backgrounds. The University of Minnesota provides equal access to and opportunity in its programs, facilities, and employment without regard to race, color, creed, religion, national origin, gender, age, marital status, disability, public assistance status, veteran status, sexual orientation, gender identity, or gender expression.
MnTAP Welcomes Kira Peterson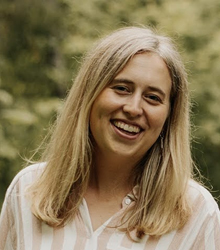 Kira Peterson joined MnTAP in late July as an Engineer focusing on the wastewater treatment area and exploring general technical assistance in other sectors. Kira's professional passion lies at the nexus of wastewater treatment plant optimization and environmental sustainability. Kira has five years of previous consulting experience in wastewater treatment, from energy and cost sensitive initial options evaluations through design, start-up and operation of wastewater treatment plants. As a currently registered Class C wastewater operator, she brings to the table an operator's perspective for implementation of improvements.
Kira is currently using her extensive experience directly interfacing with a large variety of wastewater treatment facilities to lead energy efficiency training for wastewater treatment operators throughout Minnesota.
Kira Peterson, P.E.
612-624-4653
kira@umn.edu
Energy Savings for Wastewater Plants: Cohort Training Program
Objective
The Minnesota Technical Assistance Program (MnTAP) is offering a cohort based training focused on identifying and implementing low and no cost improvements that reduce energy consumption at wastewater treatment plants (WWTPs), without sacrificing plant effectiveness at meeting discharge limits.
Target Audience
Lead wastewater treatment plant operators at municipal WWTPs treating flows up to 10 MGD.  Operators will receive 16 direct wastewater contact hours by completing this MPCA accredited course.
What You Will learn
The course will teach wastewater operations staff the basics about energy use in their facilities, assist them in implementing the first energy conservation project and leave the operations staff with a tangible plan for continuous energy efficiency improvement.
Training will be conducted with a cohort of five WWTP operators that are located in the same geographic area. There are four in person training modules and two conference calls to assess site energy use and develop energy efficiency strategies.
Training topics include:
Energy benchmarking using B3 – learn how your site compares with other for energy use
Secondary Aeration Analysis and Training – identify strategies to optimize blower performance
Biosolids Aeration Analysis and Training – identify strategies to optimize blower performance
Continuous Improvement – develop a site action plan for future energy efficiency opportunities
For more information on the training program and registration, please fill out the form below and a MnTAP staff member will connect with you.
Funding Opportunities
MPCA Grants for Chloride Reduction
The MPCA is seeking an organization that will lead the effort within a selected community in need of chloride reduction in partnership with members of the community and local and state experts. The goal of the project is to develop a strategy to identify, prioritize, educate, and assist appropriate residents, local businesses, community buildings, institutions and industries to upgrade, replace, or optimize their existing water softening systems to a system that will decrease or eliminate salt use and reduce impacts to local water resources. The intent of the RFP is to award funding to a single applicant (single organization).
Apply now! Deadline is December 10, 2021
To learn more about this grant opportunity and download the application forms, visit the MPCA web site. Email grants.pca@state.mn.us with questions no later than 4:00 p.m. Central Time on Dec. 7, 2021.
MPCA Grants for Waste Reduction and Reuse
The Minnesota Pollution Control Agency (MPCA) is offering Environmental Assistance (EA) grants for projects working to expand waste reduction and reuse, rental, and repair efforts around the state. These strategies have the potential to reduce greenhouse gas emissions and other pollutants, reduce the demand for resource extraction, and reduce the amount of waste sent to landfills. By extending the useful life of existing materials and strengthening trained skillsets in repair, reuse also supports the local economy and increases access to products and services.
Apply now! Deadline is January 5, 2022
To learn more about this grant opportunity and download the application forms, visit the MPCA web site. Email grants.pca@state.mn.us with questions no later than 4:00 p.m. Central Time on Jan 3, 2022.