August 2021
Inside the Newsletter:
2021 Symposium | Energy Efficiency JIT | Waste Reduction | Water Conservation

2021 MnTAP Intern Program to Wrap up with Symposium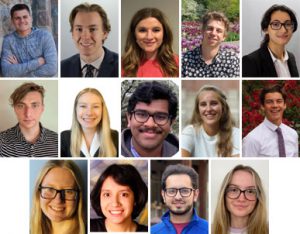 Help us celebrate the accomplishments of the 2021 MnTAP interns and student researchers as they wrap up their summer projects. MnTAP staff are grateful that in collaboration with our sponsors, host companies, and interns, we have been able to adapt the 2021 MnTAP Intern Program to carry out safe, high-impact projects for pollution prevention, energy and water efficiency.
This year's event will feature 14 projects that span a variety of industries and focus areas. MnTAP's intern cohort has been hard at work identifying solutions and best practices that bring savings to MN businesses, organizations and communities.
The event will be held virtually on August 18th from 12:30 to 5pm, with live broadcast of presentations and Q&A panels.
For More Information, Contact:
Matt Domski – Intern Project Manager
612-624-5119
mdomski@umn.edu
Energy Efficiency
Rethinking Pretreatment Heating Saves Natural Gas and Improves Throughput for JIT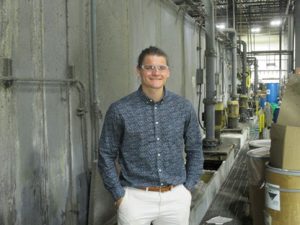 JIT Powder Coating Company is a custom coater located in Farmington, MN. The company supplies high quality powder coats on a variety of formed and fabricated metal substrates for businesses in Minnesota, Wisconsin, and Iowa. MnTAP Intern, Calvin Harris, has been working on making upgrades to the company's pretreatment line, and opportunities to reduce energy and labor costs.
The company was struggling with significant down time in their smaller conveyor line due to the need for heat exchanger maintenance. The limited availability of this line meant the larger line was needed for smaller runs impacting scheduling and energy use. Calvin has recommended a new immersion-style burner that is anticipated to require less maintenance. Improving the reliability of the small line is anticipated to improve JIT's production capacity while helping to save natural gas. Additional savings are expected from decreased maintenance and replacement parts costs.
Calvin has also focused on upgrading the equipment on the large pretreatment line. He has
Identified improved pumps to replace the older models
Proposed installing new spray nozzles
Developed a spray pattern inspection program to optimize cleaning and ensure quality finishes.
Calvin has enjoyed the opportunity to improve current operations at JIT Power Coating Company while helping to prepare the company for future operational changes.
For More Information, Contact:
Daniel Chang– Associate Engineer
612-624-0808
dwchang@umn.edu
Waste Reduction
Digging Deep to Reduce Solid Waste at Miller Manufacturing
When you're looking to reduce waste, it helps to know exactly what you are throwing away. That's why Anna Walsweer, MnTAP intern at Miller Manufacturing, enlisted the help of MnTAP and plant personnel to perform a waste sort. Miller Manufacturing is an injection molder of farm, ranch, and pet products in Anoka, and they are hosting a MnTAP Intern this summer to advance Miller's Green Initiative to consider the environment and natural resources in the manufacturing of their products.
To get a better handle on waste streams generated at Miller, Anna made a plan to close off the trash compactor and asked employees to deposit all trash generated during a 24 hour period in a central area. This collected trash was sorted into categories including scrapped products, cardboard, process resin waste, consumer recyclables such as bottles and office paper, and true trash such as wrappers, cups, and lids. Once all the trash was categorized and weighed, the quantities were extrapolated to estimate the yearly cost of disposing these items, as well as the purchase costs where appropriate. Not surprisingly, the cost to purchase the resin and cardboard found in the trash was many times greater than the cost to throw it away!
With this new information, Anna is working on source reduction recommendations to save money and reduce the amount of trash sent to the landfill.
Some recommendations are simple. Such as:
Improving the existing cardboard recycling processes
Improving regrind processes and systems
Making sure materials are stored effectively rather than ending up in the trash
Other recommendations will be more challenging. Such as:
Reducing the quantity of products ending up as scrap
Changing the way products are palletized to reduce cardboard and shrink wrap waste
Overall, Miller Manufacturing may be able to reduce their trash and disposal costs by over one third, while also saving money on purchases of raw materials and packing supplies. Those are results are worth getting a little dirty for!
For More Information, Contact:
Jane Paulson – Senior Engineer
612-624-1826
janep2@umn.edu
Water Conservation
National Sports Center Scores Big with Water Savings Opportunities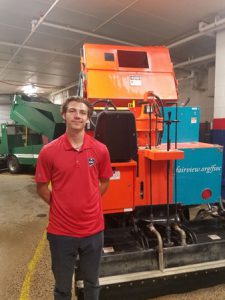 The National Sports Center (NSC) in Blaine, Minnesota is the largest amateur sports facility in the world with over fifty soccer fields, eight ice rinks, and a golf course. They often host multiple tournaments and competitions each week and have over four million visitors in a typical year. To pull all of this off requires around 40 million gallons of water each year. Despite how busy they are, staff at the NSC consistently prioritize environmental stewardship. They invited Niklas Martensson, a MnTAP intern, to join them this summer with a goal to identify opportunities to reduce water consumption.
The largest water uses at the facility include:
Golf course irrigation which uses 30 million gallons per year
Ice rink resurfacing which uses 8 million gallons per year.
Nik focused on optimizing both of these processes and has come up with opportunities to reduce water use. Recommendations include:
Implement plumbing change on hot water lines in the ice resurfacer maintenance rooms to prevent overuse during resurfacer filling and washdown
Install a recycling system for the resurface water
Decrease the radius of sprinkler heads on the borders of the golf course
If all of these options are implemented, water usage could be decreased by up to 48%.
For More Information, Contact:
Gabrielle Martin – Associate Engineer
612-624-0206
gmartin@umn.edu