November 2020: Solutions
Inside the Newsletter:
Solutions | Water Efficiency Projects | Energy Efficiency Projects | Waste Prevention Projects | Intern Project Proposals | Funding Opportunities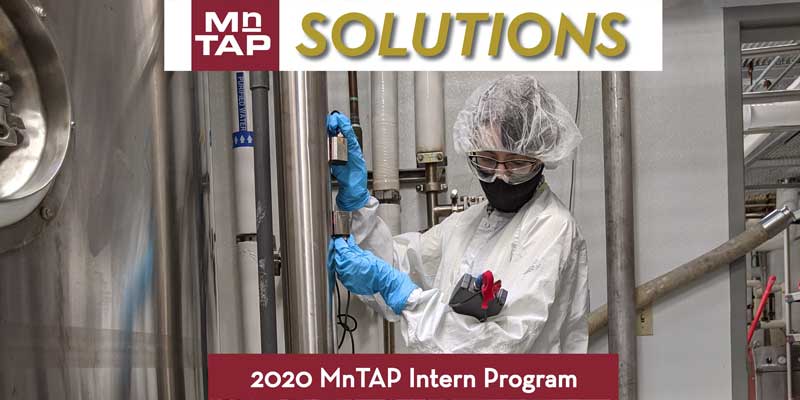 2020 Intern Program an Outstanding Success
MnTAP Solutions highlights the successful projects from the 2020 intern program. By implementing the recommendations identified by the 2020 interns, host companies could realize the following annual benefits:
148,000,000

gallons of water, saving $360,000 annually

27,000,000

kWh electricity, saving $1,900,000

1,9000,000

pounds of waste, saving $320,000

130,000

pounds of chemical waste, saving $100,000

190,000

therms of energy, saving $70,000

$1,500,000 in production impacts
Combined, these reductions have the potential to save companies $4,250,000 annually!
We hope that as you read about the 2020 MnTAP intern projects and the results achieved, you will be inspired to contact MnTAP to learn how your company can benefit from having an intern at your site to maximize resource efficiency, increase energy efficiency, reduce costs, and prevent pollution.
Read 2020 Solutions
For more information about the intern program or the application process, visit MnTAP's Intern page or contact:
Matt Domski – Intern Program Administrator
612 – 624 – 5119 or 800 – 247 – 0015
mdomski@umn.edu
Water Efficiency Intern Projects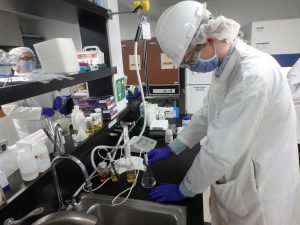 When water conservation recommendations from all 20 intern projects are combined, over 148,000,000 gallons of water and $475,000 annually would be saved. This saving is equivalent to water usage for 6,500 Minnesota residents annually.
Abbott: This Abbott facility uses around 9.8 million gallons of water per year and has goals to minimize overall water consumption. The project was to focus on identifying and minimizing areas of high water use and waste streams.  The recommendations could save the company 1,385,000 gallons of water and $13,150 annually.
Lifecore Biomedical, LLC: Lifecore Biomedical is a Minnesota based biopharmaceutical company and they wanted to reduce their water consumption because it can lead to financial savings related to not only incoming supply, but additional costs such as energy, sewer discharge, and permitting. The opportunities to reduce water use could save 14,500,000 gallons of water and save $980,000 annually.
MN Department of Administration: The Department of Administration is committed to running the government buildings in the most sustainable ways possible. The project focused on; lighting retrofits, irrigation water optimization, bathroom flush valve retrofits. The recommendations could save the department 9,400,000 gallons of water, and $ 60,000 annually.
MnTAP: Past intern and technical assistance projects have indicated there are often significant opportunities available for reducing the water intensity at industrial facilities. This project analyzed a set of 341 water conservation recommendations made by MnTAP between 2015 and 2020 with the overarching goal of identifying recommendations that consistently yield water conservation opportunities both across and within various industry sectors.
Old Dutch: Old Dutch consumes approximately 35 million gallons of water per year at its Roseville location and 20 million gallons of water at its St. Anthony location. A major goal of the project was to identify and quantify the water intensive steps in production and identify opportunities for reduction or reuse. Recommendations developed could save both locations 19,650,000 gallons of water and $190,000 annually.
Industrial Energy Efficiency Intern Projects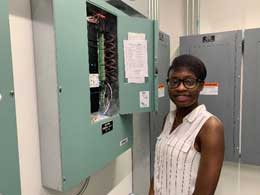 When energy efficiency recommendations from all 20 projects are combined, over 27,000,000 kWh electricity and 190,000 therms of energy and $1,970,000 annually would be saved. Those savings would equal electricity for over 2,800 Minnesota homes, and CO2 emissions from 200 passenger vehicles annually.
Pearson Candy Company: Many additions and alterations have been made to the building in the sixty years Pearson's has occupied it. The age of the building and much of its equipment allows for many opportunities to conserve energy through updating and maintaining current equipment. More thorough documentation of the HVAC system was needed in order to heat and cool the building more thoroughly and efficiently.  The opportunities found would save the company 1,389,000 kWh and $131,700 annually.
Post Consumer Brands: The focus of this project was on improving the energy efficiency of the boilers and compressed air system, which included comparing different options for boiler system operation and replacement. In addition to energy and cost savings, there was an incentive to produce electricity on-site due to power reliability concerns. The recommendations the intern found could save the company 12,900,000 kWh, 190,000 therms, and savings of $1,900,000 annually.
St. Croix Forge: This project focused on two methods to reduce the carbon footprint of the production of horseshoes: reducing electrical energy consumption and waste generation in the form of scrapped steel.  Currently about 31% of all processed steel becomes scrap and 93% of the energy consumption is electrical energy.  Recommendations could reduce energy use by 154,200 kWh,  100,000 lbs of scrap steel, and $74,320 annually.
The University of Minnesota Physicians: The focus for this project was an evaluation of ways to reduce energy consumption in their energy use by examining their electricity cost, energy use index (EUI), air quality and comfort, lighting, plug loads, and HVAC.  The intern's recommendations could save them 547,000 kWh and $59,600 annually.
MN Department of Administration:  The Department of Administration is committed to running the government buildings in the most sustainable ways possible. The project focused on; lighting retrofits, irrigation water optimization, bathroom flush valve retrofits. The recommendations could save the department 917,000 kWh, and $83,000 annually.
Minnesota Drinking Water Utilities: Drinking water utilities are one of the most widespread industries across the nation, yet most research is focused on utilities that serve over 100,000 people. This project focused on smaller utilities as they have fewer resources to investigate efficiency opportunities and lack the time and capital to optimize their current system. The main goal was to help electric utilities create rebate programs in order to incentivize energy efficiency upgrades in drinking water utilities. 
Waste & Chemical Use Reduction Intern Projects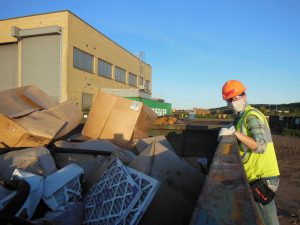 When all the waste and chemical waste prevention recommendations from the 20 projects are combined, over 1,900,000 lbs of waste as well as 130,000 lbs of chemical waste and $420,000 would be saved. This would be waste generated by 1,000 Minnesota residents, and over 250 – 55 gallon drums of chemicals annually. 
August Schell Brewing: August Schell believes environmental sustainability is good for the environment and good for business. By reducing characteristics of their wastewater stream, biological oxygen demand (BOD) and total suspended Solids (TSS), the company saw great potential for savings on wastewater surcharges.  Recommendations found could reduce  684,000 lbs of BOD and TSS, 750,000 gallons of water, and $200,000 annually.
Bosch Automotive Service Solutions: This project focused on wooden pallet waste, which was one of the facility's top waste categories by volume and had high potential for reduction. The intern investigated solutions to improve the storage and organization of pallets as they are used throughout the facility to facilitate a procedure for pallet reuse and reducing disposal volumes.  Recommendations could save the facility 270 tons of pallets and wood waste and $35,400 annually.
Minnesota Specialty Yeast: With environmental regulatory limits in wastewater effluent tightening in many locations across the state, both publicly owned treatment works and industrial businesses throughout Minnesota are closely monitoring phosphorus levels in waterways.  This project was to explore opportunities for phosphorus reduction. Decreasing phosphorus loading would conserve phosphoric acid, reduce the treatment burden on the downstream Hutchinson, and lower sanitary sewer charges. The opportunities found could save the facility 1,040 lbs of phosphorus and $6,400 annually.
Rust-Oleum: The primary focus of the project was to reduce the hazardous waste generation of the facility. The main target for reduction was methyl ethyl ketone, otherwise known as MEK or butanone, which is highly flammable.  A change in cleaning solvent could allow production flow improvements and more efficient use of equipment. This includes the ability to move the tank cleaning process to an area that does not require equipment rated for flammable environments such as forklifts. The recommendations found could save the company 209,100 lbs of hazardous waste, 5,000 lbs of wasted product, 13,000 lbs of chemicals and $121,130 annually.
Sappi: With an extensive compressed air system there is a great opportunity for energy savings. Sappi also has many waste streams some of which go off site for disposal and some that stay on site for reuse or landfilling. Finding was to divert some of the waste that leaves the site to be internally reused or eliminated entirely which would save in off-site disposal costs. The recommendations made could save 116 tons of waste and $27,400 annually.
Otsego WWTP: The project was conducted to explore the opportunity for greater energy, chemical, and operational efficiencies at the Otsego Wastewater Treatment Facility. The objectives were to save cost on chemicals used in nutrient removal, protect local waters, and save energy through operational modification. If all the recommendations were implemented, the facility would save 58,500 lbs of hazardous waste and $13,000 annually.
Albert Lea Wastewater Treatment: Recently, high concentrations of phosphate and nitrate have been found in Albert Lea's Wastewater Treatment Facility. Excess nitrogen and phosphorus in receiving water bodies accelerates a process called eutrophication, which causes massive algal blooms, followed by the depletion of dissolved oxygen, and death of higher organisms such as fish. The focus of this project was to find methods by which the plant could reduce the concentrations of nitrogen and phosphorus in the effluent of the Albert Lea WWTP.  By changing its tank and clarifier configuration, the facility could reduce 379,000 lbs of nutrients annually.
Wastewater Pond Optimization
Wastewater Treatment Ponds at Karlstad & Breckenridge and Roseau & Warroad: Nutrients in water, namely nitrogen and phosphorus, which come from agriculture, industry, or domestic households pose a serious threat to the health of aquatic environments. With an overabundance of these nutrients, algae are able to grow rapidly in local and international bodies of water. The excessive algal biomass consumes most of the oxygen in the water, leading to the subsequent death of aquatic animal and plant life in these ecosystems. By implementing the intern's recommendations, these four wastewater ponds will reduce nitrogen and phosphorus by 22,500 lbs annually.
NOW is the Time to Plan for Your 2021 Intern Project
The MnTAP intern program pairs manufacturing, food processing, hospitality and other facilities in Minnesota with a college student who researches and recommends water conservation, energy efficiency and pollution prevention solutions. MnTAP interns have helped identify opportunities that save participating companies millions of dollars annually.  For more information on the intern program contact MnTAP at mntap@umn.edu  or 612-624-1300 or visit MnTAP's Intern Page for Businesses.
If you would like to discuss a potential intern project, contact:
Matt Domski – Intern Program Administrator
612 – 624 – 5119 or 800 – 247 – 0015
mdomski@umn.edu
Funding Opportunities
Business Pollution Program Offers Increased Support for Businesses
As many businesses have seen reduced business during the COVID-19 pandemic and are facing economic hardship, the Business Pollution Prevention Program is now offering increased support to dry cleaning, auto body, and painting businesses in Ramsey County to adapt to safer and more efficient technology. The program offers financial support for up to 75% of project costs, up to $50,000, for businesses to upgrade their equipment to reduce pollution and improve the health of workers, communities, and the environment. For more information, contact Christina Vang at cvang@environmental-initiative.org.
MPCA Grants for Emissions Reductions from Refrigerants
The MPCA has grant opportunities for projects that reduce emissions from refrigerants used in cold-transport vehicles and in grocery, convenience store, and food storage facilities in Minnesota. The grants target greenhouse gas refrigerants that contribute to climate change.
Ozone-damaging refrigerants such as chlorofluorocarbons and hydrochlorofluorocarbons, which were once common, have been replaced by high global warming potential (HGWP) refrigerants that, while sparing the ozone layer, have a greater capacity to warm the atmosphere than carbon dioxide. The MPCA encourages the use of alternative refrigerants and practices that reduce refrigerant use.
Eligible projects must reduce or prevent refrigerant emissions that contribute to climate change. This includes replacing or retrofitting equipment to enable use of HGWP-refrigerant alternatives, switching to a less harmful refrigerant, or installing leak monitoring devices on refrigeration equipment. The maximum award is $40,000, and the grant recipient must match at least 25% of the total project cost.
Apply now! Deadline is December 11, 2020
To learn more about this grant opportunity and download the application forms, visit the MPCA web site. Email grants@pca.state.mn.us with questions.
MPCA Loans to help to reduce TCE
The MPCA has made up to $250,000 for small businesses to switch from using TCE to a safer alternative. The Small Business Environmental Improvement Loans are available at zero-percent interest for equipment purchases and installation associated with a switch from TCE. Eligible projects will reduce air emissions through switching from the use of TCE to an alternative demonstrated to be less toxic.
See the MPCA website to Learn more