November 2019 – Intern Program Highlights!
Inside the Newsletter:
2019 Intern Program Success | Water Conservation | Energy Conservation | Waste & Chemical Waste Prevention | 2020 Intern Projects | Clean Water

2019 Intern Program an Outstanding Success
MnTAP Solutions highlights the successful projects from the 2019 intern program. By implementing the recommendations identified by the sixteen 2019 interns, host companies could realize the following benefits:
96 million gallons of water
6 million kWh electricity
3,500,000 pounds of waste
415,000 pounds of chemical waste
340,000 therms of energy.
Combined, these reductions have the potential to save companies $2,385,000 annually!
We hope that as you read about the 2019 MnTAP intern projects and the results achieved, you will be inspired to contact MnTAP to learn how your company can benefit from having an intern at your site to maximize resource efficiency, increase energy efficiency, reduce costs, and prevent pollution.
For more information about the intern program or the application process, visit MnTAP's Intern page or contact Nathan Landwehr, MnTAP's Intern Program Administrator, at 612-624-4697 or landwehr@umn.edu.
Water Conservation Intern Projects
When water conservation recommendations from all 16 intern projects are combined, over 96,000,000 gallons of water and $475,000 annually would be saved. This saving is equivalent to water usage for 4,200 Minnesota residents annually. The following are examples of the recommendations made by MnTAP interns this year.
Ball Corporation, Saint Paul: This metal packaging producer wanted to improve their systems for tracking water usage throughout the plant and reduce consumption of both water and energy. The intern identified several water reuse opportunities that reduce fresh tap water usage by 5,700,000 gallons per year.
Boston Scientific, Maple Grove: This medical device manufacturer was looking to assess site water use and find opportunities for conservation. Recommendations included optimizing a rinse tank dumping and adding faucet aerators. Combined these implemented actions are saving nearly 4,000,000 gallons of water annually and $15,000.
City of Plymouth, Plymouth: The city wanted to find ways to conserve water, especially in the peak demand time in summer. By reviewing performance of irrigation systems for city property and athletic fields, the intern made recommendations that would save the city 5,700,000 gallons of water and $13,600‬ per year. The intern also launched a multi-year, city wide effort to define city water losses through system leaks.
Minnesota Zoo, Apple Valley: The zoo has a goal of reducing water usage by 15% by the year 2025 to meet their sustainability objectives. One of several intern recommendations was to improve the circulation system in the Gibbon Pond. Implementing this recommendation would improve the quality of water in the exhibit area and reduce water use by 1,300,000 gallons and save $1,700 per year.
Seneca, Glencoe: This food processing business was looking for ways to reduce wastewater reaching their stabilization ponds. The intern recommended adjusting the flow of water moving product through the plant as well as replacing and adjusting rinsing nozzles for high efficiency, save 37,500,000‬ gallons of water annually.
TreeHouse, Fridley: This commercial bakery wanted a site water map to identify opportunities for conservation. The intern recommended several ways to conserve water, such as steam condensate recovery, water softener maintenance and optimization along with adding sink aerators and additional water metering. Combined these recommendations would save over 1 million‬ gallons of water, 40,000 lb of salt, 8,400 therms gas energy and over $98,000‬ annually.
Energy Conservation Intern Projects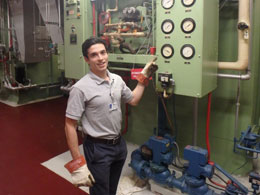 When energy conservation recommendations from all 16 projects are combined, over 6,000,000 kilowatts at $460,000 annually, and 340,000 gas therms at $160,000 annually would be saved. Those savings would equal electricity for over 600 Minnesota homes, and CO2 emissions from 400 passenger vehicle annually. The following are examples of the recommendations made by MnTAP interns this year..
North Memorial Health, Robbinsdale: This group of hospitals and clinics are actively working to decrease natural gas and electricity consumption to reduce utility costs. The intern made recommendations for resizing boilers and adding economizers to increase the efficiency of the boiler system with a potential savings of 119,000 therms and $112,000‬ annually.
Aveda, Blaine: The project focused on reducing off-grade production waste and energy consumption. The intern recommended use of variable speed compressors and implemented a maintenance program to reduce leaks to reduce energy in the compressed air system by 150,000 kWh saving $18,500 annually. Procedure changes to off-grade product management would reduce load to the wastewater discharge and save $31,000 annually.
Health Systems Cooperative Laundries, Saint Paul: The company was seeking options to maintain costs while growing the business through improvements in water and energy efficiency. The intern recommendations include optimizing washer loads and reducing misfed linens in the finishing room saving 4,300,000 gallons of water and $33,700 annually. Decreasing dryer times and repairing steam traps would save nearly 31,500 therms of gas energy and $10,000 annually.
Waste & Chemical Waste Prevention Intern Projects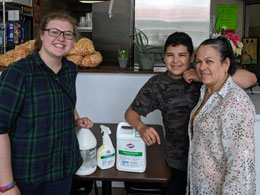 When all the waste and chemical waste prevention recommendations from the 16 projects are combined, over 3,500,000 lbs of waste and $490,000 savings as well as 415,000 lbs of chemical waste and an additional $70,000 annually would be saved. This would be waste generated by 2,000 Minnesota residents, and over 800 – 55 gallon drums of chemicals annually. The following are examples of the recommendations made by MnTAP interns this year.
Phillips Neighborhood Businesses, Minneapolis: MnTAP's Safer Products focused on replacing janitorial products used in restaurants and child care facilities, sites subject to regulation regarding sanitation. Safer disinfecting and sanitizing products were identified and cleaning procedures were assessed against application requirements allowing businesses to reduce 2 lbs of HAPs, 10 lbs of VOCs , and 1,100 lbs of bleach in the cleaning products used.
Hutchinson Waste Water Treatment Plant, Hutchinson: The city is looking to optimize biological nutrient reduction to meet anticipated lower limits on effluent phosphorus levels. The intern conducted computer modeling of the system and recommended cycling aeration in oxidation ditch treatment may enhance biological nutrient removal and avoid chemical and energy use saving 135,000 lbs ferric chloride solution and $30,000 annually.
Rural Water Systems, Sandstone, Onamia, Grand Meadow: In partnership with the Minnesota Rural Water Association (MRWA), MnTAP's intern worked with 3 cities to reduce the phosphorus and nitrogen effluent in their wastewater treatment ponds. By maximizing pond retention time, adopting water fowl prevention technics, using alum to reduce phosphorus, and and reducing storm water, the cities may be able to save 6,145 ‬lbs of phosphorus from entering surface water from plant effluent.
Kerry, Rochester: This global food company was seeking to improve their water efficiency and waste management to accommodate increasing production and maintain permit compliance. The intern updated process controls on the current effluent system to maintain pH levels in the wastewater discharge saving $20,000 annually.
Verta, Inc., Delano: A provider of sustainable architectural metal finishes, this corporation wanted to evaluate options to improve paint transfer efficiency and reuse cleaning solvents. The intern recommended ways to improve efficiency by refining the automatic sprayer range of motion and reclaiming spent solvent. Changes will reduce over 2 tons of VOCs and 12,000 lb of waste
White Bear Lake Area, White Bear Lake: To help decrease the amount of hazardous air pollution in this community, the intern worked with automotive repair businesses to recommend and promote the adoption of safer alternatives to replace hazardous cleaning and degreasing products. The intern identified 46 products where safer alternatives were available, 7 substitutions were made resulting in a reduction of 35 lbs of hazardous air pollutants and 300 lbs of volatile organic compounds per year. An additional 10 facilities are continuing to evaluate options for changing to safer products.
Now is the Time to Plan for Your 2020 Intern Project!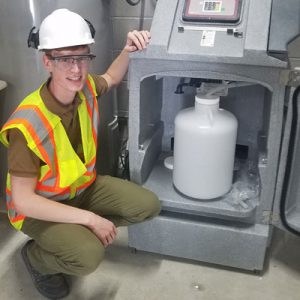 The MnTAP intern program pairs manufacturing, food processing, hospitality and other facilities in Minnesota with a college student who researches and recommends water conservation, energy efficiency and pollution prevention solutions. MnTAP interns have helped identify opportunities that save participating companies millions of dollars annually. For more information on the intern program contact MnTAP at mntap@umn.edu or 612-624-1300 or visit our Intern section for Businesses on the MnTAP website.
If you would like to discuss a potential intern project, contact Nathan Landwehr, MnTAP's Intern Program Administrator, at 612-624-4697 or landwehr@umn.edu.
Clean Water on Tap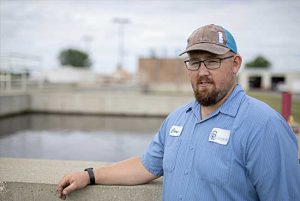 The University of Minnesota's 2020 Driven to Discover Campaign kicked off in October. This year's topics centers on food, agriculture, water, and health in Minnesota. MnTAP was honored to have our work featured in the campaign. The focus of the project is how MnTAP is partnering with Glacial Lakes Sanitary Sewer & Water District (GLSSWD) to find ways to reduce the nutrient load (phosphorus and nitrogen) in the plant's outflow. Read about the GLSSWD project on the Universities web site.