Apply For An Internship Today!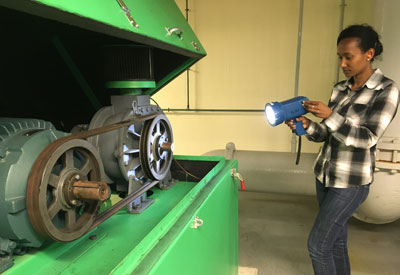 **All projects for the Summer 2018 MnTAP Intern Program have been filled.  Applications for the 2019 intern program will be open this December.
Thank you for your interest in the MnTAP intern program. The Minnesota Technical Assistance Program (MnTAP) seeks junior or senior college students to work on waste reduction, water conservation, lean manufacturing, and energy efficiency projects at companies in Minnesota each summer.
This year MnTAP plans to support 14 projects in locations around the state. The projects are at different companies and in a variety of industries.
2018 Summer Intern Projects
** FILLED**  Advanced Web Technologies Labels & Packaging – Lead a project focused on process waste and solvent use at a facility that produces high quality labels and flexible packaging, Minneapolis, MN
** FILLED** Aveda Corporation – Process water conservation and efficiency in the manufacture of personal care products, Blaine, MN
** FILLED** Carley Foundry – Lead a project focused on energy efficiency at an aluminum foundry, Blaine, MN
** FILLED**  Center for Energy and Environment – Energy efficiency at small industrial facilities, Minneapolis, MN
** FILLED**  City of Woodbury – Lead a project focused on water conservation through residential turf irrigation, Woodbury, MN
** FILLED**  KapStone Container Corporation – Lead a project focused on process paper waste improvements and water reduction at a manufacturer of corrugated (cardboard) boxes, Fridley MN
** FILLED**  Lamb Weston RDO Frozen Foods – Lead a project focused on water, energy and chemical use optimization at a potato product facility, Park Rapids, MN
** FILLED**  Minnesota Correctional Facility – Lead a project focused on developing recycling and organics recycling programs at Minnesota Correctional Facilities, Lino Lakes, MN
** FILLED**  North Memorial Health Hospital – Lead a project focused on water conservation for a healthcare system's two hospitals, Maple Grove Hospital
** FILLED**  Phillips Community – Lead a project focused on improving air quality in multi-family housing, Minneapolis, MN
** FILLED**  Phillips Distilling – Lead a project focused on wastewater and water reduction in a distillery, Princeton, MN
** FILLED**  Science Museum of Minnesota – Lead a project focused facility-wide water conservation and reuse at the Science Museum of Minnesota, Saint Paul, MN
** FILLED** SensoryEffects – Lead a project focused on heat recovery and water conservation at a food processor, Sleepy Eye, MN
** FILLED**  Thomson Reuters – Lead a project focused on water conservation at a book production facility, Eagan, MN