For Students: MnTAP Intern Program Overview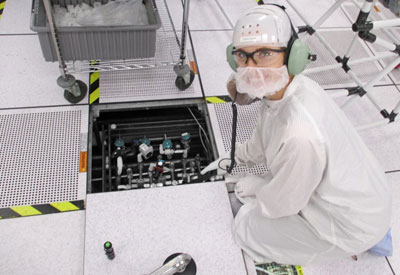 Each summer, the MnTAP intern program hires and places highly qualified students in a wide variety of facilities to develop industry-tailored solutions for waste and energy challenges. This page will provide you with more information about eligibility, the hiring process, technical guidance, and deliverables associated with the program. If you are interested in the program, you might view our videos and also review past projects.
Eligibility
To qualify for the MnTAP intern program, you should possess good oral and written communication skills, with a preferred cumulative grade point average of 3.0 or higher. A technical academic background may be required, but requirements will vary from project to project. Troubleshooting and leadership skills are required. We do encourage you to seek academic credit for this internship and will help you with that process; MnTAP does not pay tuition or fees if you choose to seek academic credit. However, we will work with you on any paperwork needed to obtain academic credit.
Students do not need to be enrolled at the University of Minnesota to apply.
The Hiring Process
When developing the intern program each year, we solicit companies to host interns. This process occurs between November and February. In January, we typically begin asking students to apply to the program. Once the companies have been confirmed, we evaluate student applications to determine which students are likely to fit each project. Typical majors of past MnTAP interns are Bioproducts and Biosystems Engineering, Chemical Engineering or Chemistry, Environmental Science, Industrial Engineering, Environmental Engineering, and Mechanical Engineering to name a few. From there, we select students to interview and make offers to those who are a best match for each project. Once an offer is made, the student must visit his/her potential facility for a confirmation interview with the company. This interview is required; once completed, the student is accepted into the program. Prior to starting at the facility, all interns take part in a two-day training session designed to teach them about pollution prevention, energy efficiency, their projects, and other items. Throughout the summer, interns are temporary employees of the University of Minnesota.
Technical Guidance
See 30 Years of MnTAP's Intern Program's Accomplishments
As an intern, you and your project are supported by a MnTAP engineer or science-related professional with experience solving problems in your industry. The MnTAP project advisor guides you by discussing reduction ideas, offering resource leads, keeping the project on track, and coaching you on how to succeed at your facility. Additionally, you and your advisor review your progress weekly; your advisor also visits you on-site during the project to ensure that progress is being made.
Confidentiality
MnTAP fully respects a company's need to protect its sensitive, proprietary, or confidential information. We work with you as an intern to make sure that you adhere to our Confidentiality Statement.
Deliverables
Throughout the project, you will prepare a report of your findings. This report outlines the suggestions you are making to the company and provides a cost analysis. You will present your findings in a detailed presentation to company staff and in a general presentation to a public audience. Both of these deliverables must be left with the company, but we can work with you if you need a similar report for obtaining class credit. Your facility will use the information in the future to implement projects that save money, reduce waste, and increase efficiency.