Food Processing Pollution Prevention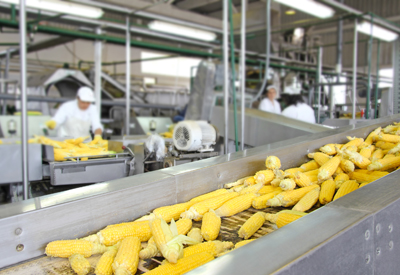 Food processing is a vital part of the Minnesota economy, providing jobs to 46,000 people throughout the state. Excellent food products are supplied by the industry, but processing these products comes with challenges; the industry emits over 4.5 million pounds of TRI chemicals each year. MnTAP is conducting a project aimed towards optimizing chemical use, conserving water, lowering strength charges, and saving energy for Minnesota food processors.
Opportunity
No cost waste reduction assessments for Minnesota food processors
Intern projects focused on in-depth waste reduction strategies
Conserve Resources
MnTAP is providing assessments in an effort to reduce chemicals, conserve water, lower strength charges, and save energy.
Focus areas:
Review cleaning procedures and reduce hazardous chemical use.
Identify opportunities to conserve water.
Reduce process related food waste and related wastewater strength charges.
Find ways to save energy.
Webinar
Improve your Bottom Line: Cut Food Processing Waste, Water, & Energy
The Bottom Line How MN food processors are cutting costs through waste prevention and energy and water conservation
Past Intern Projects
Balchem/Sensory Effects, Sleepy Eye, Wesley Graham
Goal: Improve heat recovery and water conservation at a food processor.
Intern Summary | Presentation
Lamb Weston RDO Frozen, Park Rapids, Micah Calderon
Goal: Optimize water, energy and chemical use at a potato product facility.
Intern Summary | Presentation
Kerry Ingredients and Flavours, Rochester, Denzel Bibbs
Goal: Improve energy and chemical use efficiency.
Intern Summary | Presentation
Seneca Foods, Rochester, Daniel Chang
Goal: Reduce product loss and improve water and chemical use efficiency.
Intern Summary | Presentation
Lorentz Meats, Cannon Falls, Nicholas Drews
Goal: Reduce energy use in the refrigeration system and other process energy uses, as well as water and chemicals used for multiple cleaning and sanitation operations.
Intern Summary | Presentation
Lloyd's BBQ, Mendota Heights, Ayotunde Olatunbosun
Goal: Water conservation, waste reduction, and energy efficiency opportunities in the meat packaging process.
Intern Summary | Presentation
Gedney Foods, Chaska, Ryan Venteicher
Goal: Reducing water use and wastewater created during product processing as well as improving efficiencies, reducing salt use, and reducing chloride content in the wastewater.
Intern Summary | Presentation
Contact Us
The Minnesota Technical Assistance Program located at the University of Minnesota is a nonregulatory, confidential service geared towards conserving resources, improving efficiency, and reducing costs in Minnesota businesses. Give us a call to schedule your no-cost assessment!