Investigate Opportunities for LEED Certification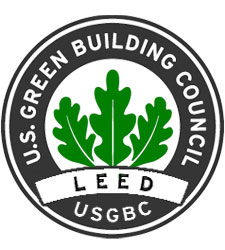 Leadership in Energy and Environmental Design (LEED) is an internationally recognized green building certification system developed by the U.S. Green Building Council. This system incorporates third-party verification of buildings that have been designed and built or recommissioned with the goal of using resources more efficiently than conventional buildings. Essentially, LEED buildings are designed to be more efficient, environmentally responsible, and good places to work. Incorporating LEED standards into your new or recommissioned building design can lead to cost savings and provide opportunities for utility rebates and tax incentives.
The LEED framework includes categories that are evaluated for each building. Points are assigned in each category and then your building is given a LEED rating. The categories include sustainable site, water efficiency, energy efficiency and energy sources, materials and resources, indoor environmental quality, and innovative design process. For more information about LEED and how to begin working toward certification at your facility, visit the U.S. Green Building Council Web site.
Minnesota Examples
Over 40 facilities in Minnesota have applied for and been awarded LEED certifications. Four of these facilities are listed below.
Resources for More Information