Incorporate Lean and Green Methods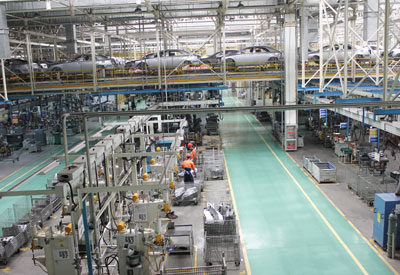 Lean manufacturing is a practice where businesses, like yours, reduce wastes and use resources (materials, energy, employees, etc.) in the most efficient manner possible. In traditional Lean terms, there are seven focus areas: overproduction, inventory, transportation, motion, defects, over-processing/testing, and waiting. Companies that use Lean manufacturing processes address each of those areas and determine how to do, produce, or sell more with less. Green can be incorporated into each Lean aspect in a variety of ways. Currently, MnTAP is partnering with Enterprise Minnesota to help manufacturers implement green solutions into the Lean framework.
Overproduction
Overproduction, which is defined as using more raw materials and energy to make unnecessary product, can result in waste if the unnecessary products expire, become obsolete, or non-compliant. Those products then need to be disposed of and your company will have to pay for and adhere to any regulations regarding disposal. However, addressing overproduction issues can lead to less unnecessary product being manufactured, which can lead to cost savings from less raw material wasted, employee time required, and energy consumed.
Inventory
The amount of inventory you store in your facility is another factor to consider. When you store inventory in your facility, that inventory can take up space that could be used for additional manufacturing or other purposes. Also, high levels of inventory can require additional packaging; use more energy to heat, cool, and light the inventory area; and increase the potential for damaged inventory. Reducing your inventory to more appropriate levels for your sales and shipping will help you decrease all of these and potentially save money. Read more about this in a 2000 Source article, Minimize Inventory to Minimize Waste.
Transportation
Transporting your products long distances can add to the cost of shipping and handling your materials. Additionally, bringing in raw materials from far away locations can add to your material costs. However, costs are not the only consideration in transportation. Energy use, emissions, and the potential for damage and spills all increase over distance and time. Reworking your shipping structure may help you avoid additional costs associated with transportation. Also, if you use hazardous materials in your production process, the transportation of those materials is heavily regulated. If you adjust your process to include less or non-hazardous materials, you can eliminate those concerns.
Motion
Excessive motion within your facility, including employee motion and product movement throughout the facility, can result in increased risk of damaged goods. If a product has to move great distances throughout your facility to be completed, there is a chance it can be damaged along the way or even could pose an employee safety concern. Limiting product movement by repositioning process steps can help you eliminate some energy costs, employee exposure risks, and potentially packaging that is required to ensure products aren't damaged.
Defects
Defects can occur throughout the manufacturing process and can often signal that a piece of equipment is malfunctioning or a process has gone awry. Defective products add to the amount of waste your company is sending to the landfill, consume raw materials and energy that could be used for non-defective products, require space for quality control reasons, and cost your company money in production and disposal costs. Properly tuning and maintaining equipment, ensuring processes are completed accurately, and finding other ways to cut down on defective parts can all lead to materials, energy, and cost savings.
Over Processing and Testing
Over processing or testing your products can add up the costs significantly. If a product is over processed, that requires additional raw materials that would not be needed if the product was processed appropriately. Testing a significant amount of products can also lead to waste if your company employs destructive testing measures. Destroying products during testing phases increases your company's waste, energy use, and emissions and can potentially result in hazardous waste that has to be disposed of. Processing products accurately and avoiding over processing can reduce your waste and costs as can employing non-destructive testing methods, if feasible.
Waiting
When your facility is waiting, thereby not producing products, the energy and water meters are still ticking. Often during down times, your facility is still heated or cooled and the lights are on. These are all factors that can be changed to save money. If your facility goes through a shut-down period, reduce all heating/cooling as much as possible and shut off lights in areas where they are not essential. To further reduce energy costs, install motion sensors in areas that are not occupied frequently.
Resources for More Information on Green and Lean