Wood Finishing Tips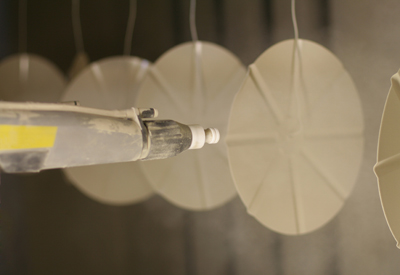 The wood products industry is important to Minnesota both economically and environmentally. Minnesota has over 1,000 furniture, cabinet and millwork shops. The wood finishing process is a significant source of volatile organic compounds (VOCs) and hazardous air pollutants (HAPs). Common HAPs in the industry include: methanol, methyl ethyl ketone, methyl isobutyl ketone, methylene chloride, toluene and xylenes. Wood finishing shops should also be concerned about disposal of waste solvents, finishes and rags, which are often considered hazardous waste. The industry receives increased regulatory scrutiny from the Wood Furniture Manufacturing National Emission Standard for Hazardous Air Pollutants (NESHAP).
Through the use of alternative coatings, such as waterborne finishes, and the use of higher transfer efficiency spray equipment, some companies are seeing significant reductions in emissions and savings on disposal and raw material costs.
Benefits of Reducing Waste
Reducing VOCs and HAPs is smart business for wood finishing shops. Benefits include:
Improved work environment, health and safety for employees
Reduced regulatory compliance burden
Savings on materials and disposal costs
Note: Alternative finishes may cost more on a per gallon basis, but they have a high solids content requiring less to be used to complete the job–saving you money.
Marketing advantage of being "environmentally friendly"
Current Standard Wood Finishing Process
Many wood finishers use the traditional solvent-borne stains and nitrocellulose lacquers to finish wood products. Solvent-borne coatings provide a durable, high quality finish at a reasonable cost. They are also easy to spray and problems with the finish are easy to fix because a compatible solvent can quickly strip off the finish. Finishing steps vary between shops because of the type of wood being used, the type of product being manufactured and the desired finish. VOC and HAP emissions are associated with the spraying and curing processes and hazardous waste may be generated from wiping stains and cleaning equipment.
Additional Information