Resources & Associations for Paint & Wood Finishers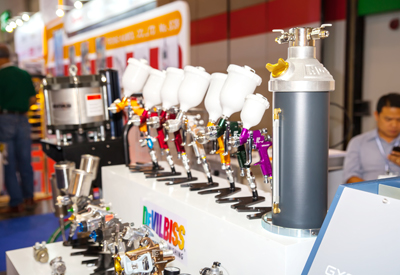 At some point you may need more information, need to ask questions or find out what others think about a situation. Take advantage of your opportunities to get connected. Talking to peers and suppliers to your industry through membership in a trade association can help you solve problems.
Chemical Coaters Association International (CCAI) is a technical and professional organization that provides information and training on surface coating technologies. Twin Cities Chapter.
Finishing.com is the homepage of the Finishing Industry, providing comprehensive information on various finishing methods. It also lists current events, related organizations, and technical reference.
PaintTraining.com is home to Iowa Waste Reduction Center's Virtual Paint and LaserPaint products. The Center is based at the University of Northern Iowa.
National Paint & Coatings Association (NPCA) is the preeminent organization representing the paint and coatings industry in the United States. A voluntary, nonprofit trade association, NPCA represents some 400 paint and coatings manufacturers, raw materials suppliers, and distributors.
North Dakota State University, Department of Coatings and Polymeric Materials is currently the only academic program in the U.S. offering M.S. and Ph.D. degrees in Coatings and Polymeric Materials Science.
Painting and Decorating Contractors of America (PDCA) develops industry standards, industry-specific publications, videos, educational training. It is involved in legislative and regulatory affairs, from working with EPA and OSHA on lead-based paint regulations, to monitoring environmental restrictions on paint.
Paints and Coatings Resource Center provides regulatory compliance and pollution prevention information to individual organic coating facilities, industry vendors and suppliers, federal, state and local agencies, academia, and other interested parties.
Powder Coating Institute (PCI) represents the North American powder coating industry. It promotes powder coating technology and communicates the benefits of powder coating to manufacturers, consumers, and government.
RadTech Industrial is the association for ultraviolet (UV) and electron beam (EB) technology.
Spray Technique Analysis and Research for Defense (STAR4D) Training helps the military refinishing industry use less material and improve finish quality.