Improving Efficiency in FRP Operations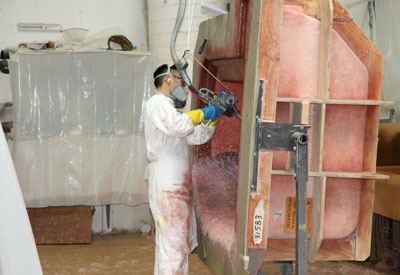 With support from an MPCA Pollution Prevention grant, the University of Minnesota's Minnesota Technical Assistance Program (MnTAP) is conducting a program to bring E3 to Minnesota's Fiber Reinforced Plastics (FRP) industry.
E3 stands for Economy, Energy, and Environment. It's a program that combines Lean tools with energy and waste assessments to maximize efficiency in all areas and help business be more competitive.
Fiber reinforced plastics is an important manufacturing sector in Minnesota and it's an ideal industry for E3 assistance. Did you know:
There are over 50 FRP companies in MN.  Many of them are small shops in rural communities where efficiency improvements that create or protect jobs can have a huge impact.
The type of multi-step processes used create opportunities for efficiency improvements, and can benefit from Lean tools such as value stream mapping (VSM).
Styrene, which is a major component in most FRP products, is both a volatile organic chemical (VOC) and a hazardous air pollutant (HAP). The Pollution Prevention assessment may be able to help in reducing or eliminating this and other chemicals.
The use of volatile chemicals creates a requirement for good ventilation.  In our climate, that means lots of heating and good opportunities for energy conservation from HVAC systems.
For ideas and resources to prevent pollution in open and closed molding situations as well as environmental and safety rules in Minnesota for the fiber reinforced plastics industry, refer to MnTAP's FRP website.
Savings Opportunities
Potential savings opportunities for companies participating in the E3 in FRP project include:
Receiving FREE lean, energy, and pollution prevention assessments by participating in MnTAP's E3 program.
Financial and business consulting services from the Minnesota Small Business Development Center.
Improving spray technique to maximize transfer efficiency – putting your raw materials on the product where you want them rather than into the trash.
Optimizing cleaning procedures to make the best use of cleaning solvent.
Using resins with no or lower styrene content.
Replacing hazardous chemicals such as MEKP and acetone with less hazardous alternatives.
Utilizing lower emission processes such as closed molding or vacuum molding where appropriate.
Maximizing motor efficiency through proper sizing and use of synchronous belts and variable speed drives.
Replacing inefficient light fixtures.
FRP Tips Newsletter
Each newsletter contains information and updates about the E3 in FRP project and helpful money-saving conservation tips
First newsletter sent May 22 to 117 addresses
Bi-weekly for first 3 months, then monthly
Links to past electronic newsletters
Roles and Responsibilities
MnTAP Responsibilities
MnTAP will conduct onsite Pollution Prevention (P2) and Energy Efficiency (E2) assessments, and coordinate with the selected Lean Provider to facilitate the Lean assessment as needed. MnTAP will provide information on current best practices for the FRP industry. MnTAP will provide recommendations for improvements, support for implementation, and assistance in quantifying energy, material, and dollar savings. MnTAP will document and publicize project results, after receiving company approval to ensure protection of any confidential information.
Lean Provider Responsibilities
The lean provider will conduct an onsite assessment, training, and other services as detailed on the Lean Provider information sheets. Lean provider may provide additional services at the sole discretion and expense of the applicant company.
Company Responsibilities
The company is responsible to participate in all three phases of the E3 project (lean assessment, energy assessment, and P2 assessment), and to allow MnTAP to publicize successful results.
Contact Us
To participate in one of MnTAP's projects or events, or to discuss your ideas or identify funding sources, contact: