Improving Efficiency in Industrial Painting Operations
With support from an MPCA Pollution Prevention grant, the University of Minnesota's Minnesota Technical Assistance Program (MnTAP) is conducting a program to bring E3 to Minnesota's painting and coating operations.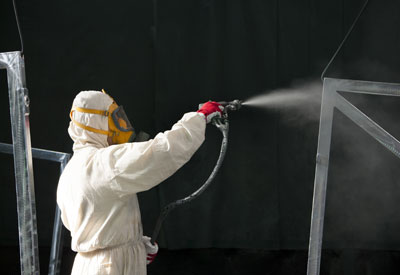 E3 stands for Economy, Energy, and Environment. It's a program that combines Lean tools with energy and waste assessments to maximize efficiency in all areas and help business be more competitive.
Painting and coating is an important manufacturing sector in Minnesota and it's an ideal industry for E3 assistance. A limited number of openings are available for the E3 in Painting project, so apply now to participate. Companies will be selected based on potential waste and energy savings and demonstrated commitment to implementing recommendations. Applications will be accepted until all project slots are filled. Apply today for the best chance to be selected!
Painting Events and Training:  

Apply Today to participate in the E3 in Painting project!
E3 in Painting Savings Opportunities
Potential savings opportunities for companies participating in the E3 in Painting project include:
Receiving FREE lean, energy, and pollution prevention assessments by participating in MnTAP's E3 program.
Financial and business consulting services from the Minnesota Small Business Development Center.
Improving spray technique to maximize transfer efficiency – putting your raw materials on the product where you want them rather than into the trash.
Optimizing cleaning procedures to make the best use of cleaning solvent.
Replacing hazardous chemicals with less hazardous alternatives.
Utilizing lower emission processes where appropriate.
Maximizing motor efficiency through proper sizing and use of synchronous belts and variable speed drives.
Replacing inefficient light fixtures.
If you are interested in the E3 in Painting Project and would like to know more, contact

612 – 624 – 1300| mntap@umn.edu
Paint and VOCs
Volatile Organic Compounds, or VOCs, are compounds of carbon that evaporate into the air and react with NOx and sunlight to form low-level ozone, also known as smog. While ozone in the upper atmosphere is beneficial to the earth and protects it, in the lower atmosphere, ozone is a harmful pollutant, and can cause chest pains, shortness of breath, and fatigue. Reducing VOC emissions is the most effective way to reduce low level ozone.
Did You Know?
Industrial coating accounts for almost 37% of painting and coating VOC air pollution in Minnesota.
VOCs are found in most liquid paints and coatings. MnTAP hopes to reduce VOC emissions from these sources by providing information and technical assistance with voluntary measures that industrial painters and coaters can take to reduce VOCs without the burden of regulation.
Reformulation
Working with your supplier to purchase product with lower VOC content or lower photochemical reactivity is an easy way to reduce VOC emissions.
Powder
Switching to powder coatings can result in a significant reduction in VOCs. Powder coatings are small, solid particles that are sprayed onto parts. The powders are electrostatically charged to stick to the part they are coating. The over sprayed powders can be collected in filters and recycled, and there are no liquid solvents evaporating. This means there no chemical odors, and no VOCs.
UV Curable
UV curable coatings are cured using UV light, instead of using heat like traditional solvent based coatings. These coatings are generally formulated with few VOCs, as the liquids do not need to flash off like they do in traditional paints.
High Solids
High Solids paints have a higher ratio of solids to solvents in the paint mixture. This means that there are fewer solvents flashing into the air per gallon of paint used, and therefore fewer VOCs.
Waterborne
Waterborne paints are another great option for VOC reduction. These use water instead of solvents to carry paint solids to parts, and dry by evaporating the water.  Having water instead of solvents in the mixture results in fewer VOCs.
Transfer Efficiencies
Improving transfer efficiency is another great way to reduce VOCs. Higher transfer efficiencies lead to less paint being used overall, which then leads to fewer VOCs flashing into the air. One great way to improve transfer efficiency is to attend virtual paint training (link this to header below). Other ways to improve transfer efficiency include:
using electrostatics (and maintaining the conductive path)
optimizing spray pressures (and patterns)
increasing parts density on the racking
using metering and plural component mixing systems.
Webinar Series
In hopes of spreading the word about the upcoming ozone regulations and what can be done in the industrial painting industry, MnTAP hosted a webinar series. The webinars include case studies and real industry examples of efficiency improvements, cost reductions, and the environmental benefits that have been found in projects across Minnesota presented by the manufacturers and suppliers involved. These webinars are 45 minute sessions providing meaningful information that you can use to make a difference in the air quality of the state.
Virtual Paint Training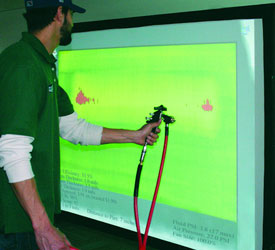 Virtual Paint Training is a great way to improve painting technique and efficiency by learning from nationally renowned experts, using computer generated simulation of painting parts. It is helpful in improving transfer efficiency and perfecting coating thickness, helping to improve quality and reduce paint waste. Check back for upcoming Virtual Paint Training.
Contact us
To share a case study, discuss ideas, or for confidential technical assistance, contact: