Clear The Air – Reduce Volatile Organic Compounds
How Green Is Your Spray Painting?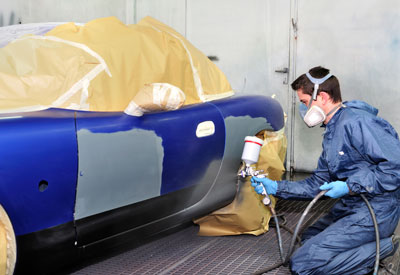 Most common liquids that evaporate and have an odor contain volatile organic compounds (VOCs). VOCs are present in your cleaners and in your paints, whether you use traditional solvent-based paint or water-borne paints. VOCs are a large group of solvents and chemicals that, when released into the atmosphere, are transformed into ground-level ozone which is a component of smog and is a harmful air pollutant.
Did You Know? Vehicle refinishing accounts for almost 4% of all industrial VOC air pollution in Minnesota.
The University of Minnesota's Minnesota Technical Assistance Program (MnTAP) is working to improve Minnesota's air quality. One effort is helping businesses reduce solvents used for painting while still maintaining effectiveness and not increasing costs.
Why Reduce VOCs?
To make our air safer, the EPA has recently proposed lowering the ozone standard which will likely introduce new and costly VOC regulations in Minnesota. In addition to avoiding potential regulatory burdens, reducing VOC emissions can impact your bottom line by helping you:
Save money – use and buy less chemicals by implementing modern technology and more efficient methods
Improve worker health and productivity
Use less personal protective equipment (PPE)
Provide a healthier work environment – increasing worker retention and reducing absenteeism and fire risk
Tips To Cut Smog-Causing Fumes
How You Can Reduce VOCs
Volatile organic compounds (VOCs) are present in many common aerosol solvents, degreasers, adhesives, and cleaning and prep solutions used in every autobody shop. VOCs will also be present in whichever paint system you use, even water-borne (but at a lower concentration). MnTAP or your jobber and paint supplier may be able to help you determine the best strategies to reduce VOCs in your shop. However, there are some changes you can implement today:
Switch to aqueous or soy-based cleaners.
Use liquid rather than aerosol products to put product where it is needed and reduce overspray.
Switch to higher flash point solvents to reduce evaporation and fire risk.
Switch to less hazardous (less reactive) solvents (talk to MnTAP).
Keep drums, equipment, and waste containers sealed to prevent evaporation.
Store rags used with VOC cleaners in a sealed container and reclaim the solvent, rather than allowing it to evaporate into the air.
Equipment required to implement these changes might be the basis for funding assistance, for example: replace worn spray guns with best-in-class HVLP.
Considerations When Changing Products
Some factors to be aware of when making a change:
Whatever you change (paint, cleaner) will take some time getting used to. Paint system change especially will take some supplier training and technician adjustments before you are comfortable and productive with the switch.
Some products labelled 'VOC exempt' or 'VOC compliant' may contain other hazardous materials instead. Don't replace one hazard with another one. Two ingredients to watch out for are Tetrachloroethlyene (aka PERC) and Methylene Chloride.
Some aqueous cleaners can last a very long time if oil and dirt are removed to maintain the solution.
Ask for cleaners that separate from oil easily.
Procedures for using aqueous cleaners effectively can be different from current solvents. Learn what is needed to make alternative cleaners work best.
Alternative product may not be a complete drop-in replacement for all situations. If a first attempt is not successful, there still may be a greener product that could work for you, or a partial solution may be better than no change.
Some aqueous cleaners contain solvent as ingredients. Know what ingredients are present and in what amount to determine if the change is an improvement.
Making Our Air Safer
To address the growing problem of air pollution, federal EPA standards for air quality have tightened over the years. To make our air safer, it is increasingly likely that VOC standards will be lowered and Minnesota will face costly new regulatory requirements for businesses if levels of specific pollutants, including VOCs, are too high.
More information on the MnTAP VOC reduction project can be found on the Current Events page. Information on the MPCA VOC reduction program is available at: https://www.pca.state.mn.us/air/ozone.
Get Your Ideas For Improvements Ready!
To participate in one of MnTAP's events, or to discuss your ideas or identify funding sources, contact MnTAP:
We will share the results of our outreach, trainings, and VOC reduction success stories with the collision repair industry, offering several events at different times and locations. Check mntap.umn.edu for updates and information.