Wastewater Treatment Plant Project: Energy Efficiency & Renewable Energy Generation
Project Background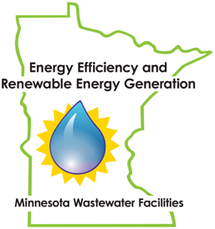 A Minnesota Department of Commerce, Minnesota Pollution Control Agency and MnTAP project, funded through a grant from the U.S. Department of Energy, aimed to increase energy efficiency (E2) in Minnesota municipal wastewater treatment plants (WWTP) and scope opportunities for onsite power generation. The project was completed in 2017.
The Final Project Report summarizes the scope and outcomes of the project.
The Final Project Report was prepared to summarize the approach to the project.
The primary goals of the project were to:
help wastewater facilities lower operating costs through improved energy efficiency, and
provide up-to-date information to help facilities and city staff make informed decisions.
Wastewater treatment is a highly varied industry in Minnesota, both in the amount of energy consumed and the selection of treatment operations and equipment. Across the U.S., WWTPs are responsible for 1.5% of U.S. electrical consumption. Energy is one of the largest contributors to plant operational costs, and has the greatest potential for cost reduction. MnTAP engaged treatment plants to participate in a range of efforts to improve plant energy performance to reduce costs.
Who Participated
During the project, MnTAP sought to engage WWTPs that were:           
Making capital improvements – either expanding or redesigning portions of their plants.
Willing to consider cost-effective changes to reduce total cost of plant operation.
Using anaerobic digestion or considering changing to anaerobic digestion.
Exploring the potential of utilizing biogas via combined heat and power (CHP) to generate electricity and offset natural gas purchases.
Willing to host a MnTAP site assessment or a summer intern to evaluate efficiency opportunities on energy-intensive processing equipment, procedures and operating schedules.
Benefits to Participating Plants
ENERGY STAR® Portfolio Manager® score
This is an energy benchmark for mechanical wastewater plants that compares your energy performance to plants nationally to identify operating cost reduction potential. This score accounts for differences in hydraulic and organic loads, climate and other factors and has been validated for plants larger than 0.6MGD (although we believe the model is likely to be useful for smaller plants also).
Energy Assessments
MnTAP conducted assessments at eleven mechanical wastewater plants and one aerated pond system. These assessments:

Evaluated current operations to identify energy efficiency and cost saving opportunities as well as possible ways to streamline operations and address maintenance issues
Evaluated portions of planned expansions and plant modifications by working with your design engineers to look at capital investment vs. energy cost over the life of the plant to identify the most cost effective options.
Delivered energy reduction solutions for voluntary implementation.
Had no assessment fees and no regulatory burdens.

Biogas Utilization Evaluations
For plants that produced biogas through anaerobic digestion, or were interested in evaluating biogas energy generation opportunities, MnTAP facilitated:

A no-cost screening evaluation with the US DOE Midwest CHP Technical Assistance Partnership (CHP TAP)*. The screenings indicated if electrical power generation and thermal recovery (i.e. combined heat and power) from biogas appeared promising, or under what future conditions it might become promising.
Follow on technical assistance, including engineering evaluation and/or feasibility study, through the US DOE Midwest CHP TAP to confirm cost effectiveness for promising CHP situations, and to characterize an appropriate biogas and CHP configuration.*The Midwest CHP Technical Assistance Partnership is a DOE supported regional center promoting and assisting in developing the market for Combined Heat and Power (CHP) technologies.

 Information on State and Federal Financial Assistance
As appropriate to needs, MnTAP facilitated connections to additional providers of financial assistance ranging from utility incentives to low-interest loans, to state vetted, energy performance contracts.
 MnTAP intern
MnTAP provided interns to work on an energy conservation projects of importance to 3 plants. Upper class, undergraduate students performed feasibility analyses to help plants select and justify the best options for process improvement, and begin the process of implementing change.
Additional Project Highlights
Project outcomes for the three-year project include:
Trained 108 operators on Energy Efficiency (E2) and onsite power generation
Conducted 12 E2 assessments at sites that are more complex than simple lagoon systems
Identified a conservation opportunity of 5.5 million kWh per year
Held 11 regional discussions on WWTP E2 implementation planning
Evaluated 4 combined heat and power (CHP) screenings
Read the Final Project Report to get a comprehensive review of the project work and outcomes.

Read the Action Plan to review guidance provided to USDOE that aims to help other states emulate our project.
To Learn More About the Project, Contact MnTAP Today!
To learn more about this project, contact Karl DeWahl, MnTAP Team Leader and Senior Engineer, at 612-624-4645.
Related Webinars and Events
---
February 9, 2017 – MN B3 Benchmarking WWTP Overview Demonstration
Recording of webinar presented by Cheri Schneider of The Weidt Group on February 9, 2017 to introduce new functionality for Minnesota's B3 Benchmarking platform – the ability to compute metrics specific to wastewater treatment plants.
---
March 24th, 2016 – Wastewater Treatment Energy Efficiency Training
Operating efficiently–energy conservation for small to medium wastewater treatment facilities
Course Instructor: Tom Jenkins, PE – JenTech Inc.
Training Slides [PDF]
Training Topics:
---
---
December 8, 2015 – GreenStep Cities Workshop Webinar
Energy Efficiency and Renewable Energy Opportunities at Minnesota Wastewater Treatment Plants
Success Stories and Resources
MnTAP assessed 10 sites in a previous project and has had a number of intern projects related to wastewater plant energy conservation. We found opportunities to reduce energy use by 5–30%.
U.S. Department of Energy Wastewater Infrastructure Accelerator
The Minnesota Department of Commerce is a Partner in the U.S. Department of Energy's (U.S. DOE) Wastewater Infrastructure Accelerator. The U.S. DOE Wastewater Infrastructure Accelerator is a separate initiative than Wastewater Treatment Plant Project: Energy Efficiency and Renewable Energy Generation outlined above. Do not contact MnTAP for more information, contact Lindsay Anderson with the Minnesota Department of Commerce at lindsay.anderson@state.mn.us or 651-539- 1771.
According to the U.S. DOE, "The Wastewater Infrastructure Accelerator will work over three years with state, regional, and local agencies that are engaging with water resource recovery facilities in their jurisdiction to accelerate a pathway toward a sustainable infrastructure of the future. The Accelerator aims to catalyze the adoption of innovative and best-practice approaches in data management, technologies, and financing for infrastructure improvement. Partners will seek to improve the energy efficiency of their participating water resource recovery facilities by at least 30 percent and integrate at least one resource recovery measure."
Learn more about the benefits from the Wastewater Infrastructure Accelerator Factsheet.
Contact: Lindsay Anderson with the Minnesota Department of Commerce at lindsay.anderson@state.mn.us or 651-539- 1771 to learn more or to sign-up.