Recycling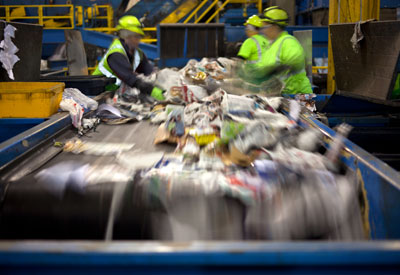 Recycling is environmentally preferable to incineration and disposal and can save your company – and the state of Minnesota – money. We may think of waste as "garbage," but waste materials have value. You might be able to sell your recyclable materials instead of paying to throw them away.
According to the Minnesota Pollution Control Agency (MPCA),, Minnesota recycling programs support 60,000 jobs in the state and add $15.7 billion to the economy. However, MPCA estimates roughly 850,000 tons of recyclables are thrown away each year, equating to $153 million (1).
Recycling has broader economic benefits, such as job creation. Research on the U.S. labor market suggests that recycling results in six times more jobs than landfilling (2).  According to the EPA, for every 1,000 tons of materials recycled, 1.17 jobs, $65,230 in wages, and $9,420 in tax revenue are generated. These statistics speak to the importance of the recycling economy (3).(4).
Recyclables can be reprocessed into new products, which avoids the resource-intensive process of extracting raw materials. Processing recycled materials is typically more energy efficient than virgin material production. For example, producing recycled-content aluminum saves 95% of the energy required to make aluminum from virgin sources (5).
What's Recyclable?
Unfortunately, there's no universal key to recycling. Most things are technically recyclable, but you may not be able to recycle a specific item in your area if there's not a market for it. The "chasing arrows" triangle symbol doesn't mean that an item is recyclable in your area or program. Even within a geographic area there may be variation from program to program. For example, one program might take milk cartons while another program in the same area may not. In addition, there are certain types of items that should be recycled, just not in your recycling bin – things like electronics and plastic bags. There are drop-off programs for these and other types of recyclables. Use the following resources to find outlets for specific materials:
Hard – to- Recycle Items and Outlets
There are myriad items that are considered "hard-to-recycle." These span the gamut of textiles to non #2 and #4 soft plastics (bags), gypsum board to carpet and paint. Here is a non-exhaustive but currently maintained list of outlets where you may be able to recycle certain materials in the state of Minnesota.
These include:
Textiles
Plastic film and bags (laminated, coated, treated)
Carpet padding
Hank's Specialties | Flooring Supplies & More (hanksspec.com)
Shoes
Writing utensils
University of Minnesota Recycling Center
Styrofoam
Healthy Planet, Healthy People (black, yellow, white)

Coon Rapids Recycling Center (white)
Paint
Mattresses
Single Gloves and PPE
Keys to a Successful Recycling Program
There are several recycling best practices that should be employed in any recycling program. We've grouped these into three areas: infrastructure (containers and signs), education, and evaluation, discussed in more detail below. Learn more on our Waste Assessments, Sorts, and Tools page.
Infrastructure
It's critical to make recycling convenient – as convenient as throwing stuff away. To maximize convenience, your recycling program should:
have enough recycling containers;

think about where people dispose of waste. For example, it might not make sense to put containers next to vending machines if people aren't eating and drinking in that same area;

strive for containers that look the same throughout the facility. Pick one color for trash cans and one color for recycling bins and stick to it. This makes it easy for people to use the right containers;

employ clear and consistent signs on or near all containers. Signs with minimal words and colorful images are optimal. Free signs and images are available from the following websites:

Collection containers – ensure that your collection dumpsters or containers are easily accessed and labeled so that maintenance or custodial staff can dispose of materials from within your facility in the appropriate places.
Education
Good infrastructure is a start, but education is just as important. Ensure that all employees understand your commitment to recycling and know how to use your recycling system – it may differ from what they have at home. Education is especially important when introducing new materials into your recycling program. Go beyond signage and include recycling education in staff meetings and training. And don't forget about new employees – integrate recycling information into new employee orientation. Recycling advocates or green teams can also deliver reminders, answer questions, and lead by example.
Evaluation
Giving feedback can help you diagnose possible problems and motivate your employees to do even better. Periodically look in your bins to make sure that materials are ending up in the right containers, and then give feedback to employees. Friendly competitions between units or areas can help motivate people to do more. Verbal reports or graphs showing recycling rates over time can also be motivational tools.
Additional Resources
General
Materials
Public Space Recycling Resources and Studies
Schools
Green schools (MPCA)
Waste Reduction Awareness Program (WRAP) (Jeffers Foundation) – Information and tools for school food waste reduction
---
References