Energy Savings with Electric Transport Refrigeration Units (TRUs)
Transport refrigeration units, or TRUs, are an essential part of the supply chain infrastructure, cooling trucks full of food and other temperature sensitive items. TRUs also spend an average of 50% of their operating time stationary at a loading dock or in a distributor's yard, consuming diesel and producing harmful emissions.
This short presentation (3mins, 39secs)  is on the benefits and cost savings with standby electric TRUs and how your company may be able to switch over to this technology.
A study done in Oregon by CleanFuture and Portland State University identified the following key information about TRU use in Oregon, which has been validated in Minnesota,
Trucks with TRUs spent 48% to 58% of the total run hours at their home dock.

Fleet managers significantly underestimated the time that TRUs were run stationary.

Few managers knew electricity was lower cost and more stable than diesel (Figure 1).

Electric standby can be a cost-effective way to power TRUs while cooling at the dock.
Figure 1: Diesel vs electric operating cost over time.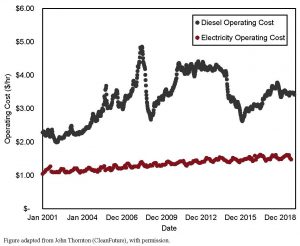 Electric standby infrastructure consists of an electric capable TRU and electric infrastructure installed at the home dock or yard. These two pieces of equipment enable the TRU to operate with electricity instead of diesel, during stationary operation, which saves diesel fuel, reduces operating costs, and reduces local air emissions.
Impact of Electrification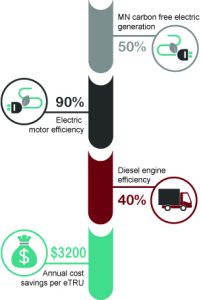 The impact of electrification is two-fold: reduction in diesel use and local diesel emissions. The reduction in diesel fuel use is typically on the order of 1 – 2,000 gallons per year per TRU. This reduction leads to an emission reduction on the order of 5 – 10 metric tons of carbon dioxide equivalent (MTCO2e) and an average PM2.5 and NOx reduction of 40 lbs. and 750 lbs., respectively.
An important distinction needs to be made on the source of the emission reduction. The emission reduction is specifically a local impact as there is an increased emission associated with the electricity needed to power the TRU during stationary operation. In Minnesota, this emission is reduced due to our commitment to carbon-free sources, which in 2020, is approximately 50% of the total generation, but still contributes to the overall emission calculation. Since the emission reduction is local, it can be a great benefit to the surrounding community and to the workers at the dock and in the yard.
Funding Availability
There are two major funding sources available on an annual basis: the federally administered Diesel Emission Reduction Act (DERA) grant and the Minnesota Pollution Control Agency (MPCA) administered DERA grant. Environmental Initiative (EI) is a local non-profit organization that helps facilitate the writing of federally administered DERA grant applications. They act as a contractor (one of only a few in the state qualified) to aggregate multiple diesel emission reduction projects into one application which increases the likelihood of success and improves the quality of the application material. EI and MnTAP are both available for assistance with MPCA DERA grant applications.
Both grants have specific language for TRU funding that provides 25% grant match for TRU replacements with electric standby technology and 30% grant match for shore power infrastructure purchasing and installation. The requirements for each grant are:
Must destroy old diesel engine

TRU must have three years of remaining life

TRU must be functional

TRU must run at least 500 hours per year
These funding opportunities have the highest chance of acceptance due to the inclusion of TRUs in their programming literature, but other funding sources may exist for electric standby infrastructure. For more information, contact Gabrielle Martin at gamartin@umn.edu or 612-624-0206.

Webinar
Costs & Fuel Savings with Electric Capable Transport Refrigeration
MnTAP partnered with the Minnesota Trucking Association to present a webinar on August 26, 2020, focussed on the many benefits of electric capable refrigerated transport units.
Resources