Minnesota Metro Water Conservation
MnTAP has been supported by Metropolitan Council Environmental Services (MCES) with Clean Water Funds since 2012 looking at industrial water use conservation opportunities. In 2012-2014, a project focused on industrial private well water use. Surveys about opportunities and barriers, and water conservation assessments were conducted with large industrial water permitees.
In 2014-2015, MnTAP identified opportunities for industrial water users in another project the North and East Metro Groundwater Management Area (N&E Metro GWMA) to reduce their water demand as part of the Department of Natural Resources strategies under the GWMA plan. The project included:
Identification of industrial water users
Outreach and awareness raising of the importance of water conservation, including a frequent electronic newsletter (shown below) with tips for best practices and presentations to area organizations
Assessments of industrial site water use with recommendations for improvement by MnTAP staff members
Water Tips Newsletters (2014 – 2015)
Water Projects & Events
MnTAP continued the 2017 project through December 2018 which identified water conservation opportunities aimed at industrial water users in Washington County. This project was supported by Washington County and had goals for MnTAP staff to conduct an additional one to two water efficiency assessments at interested facilities located in the county, and another intern project conducted in summer 2018.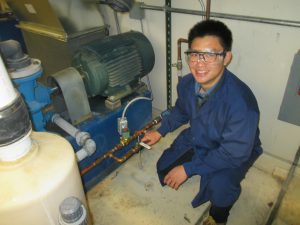 Assessments included an analysis of process flow and utility data to understand how and where water is used in the facility, interviews with facility staff members to refine the details of the operation, and research on cost effective options and alternatives that will work specifically to reduce water use and costs. Each of the assessment projects will result in a thorough, site specific confidential report of water efficiency findings that will only be shared with facility staff. MnTAP staff will remain available to the business to support implementation as needed.
The intern project would focused on water conservation priorities using a skilled engineering student to thoroughly investigate and justify the water conservation improvement possibilities, much like last year's project at DiaSorin in Stillwater.
Take Action this Summer to Save Water & Money at Your Car Wash
Washington County Public Health and Environment partnered with the Minnesota Technical Assistance Program (MnTAP) to identify and implement water efficiency recommendations at your car wash operation.
Metropolitan Council Environmental Services (MCES) water conservation motivation report
MCES: Industrial Water Conservation Motivations Report
MCES: Wastewater -Water: Publications & Documents
By the end of 2017, MnTAP had interviewed all the key contacts we worked with from 2012 – 2017 that focused on water efficiency intern projects and/or assessments to assemble information and feedback on their motivations and barriers to water conservation. This report will give MCES a better picture across the metro region why and why not water conservation by revisiting technical work completed during MCES – sponsored projects, as well as other water – focused staff and intern projects.
The 2017 Intern Program included several water conservation projects. Twenty-eight companies and 160 students applied for 17 projects — the largest group of summer intern projects ever coordinated by MnTAP. To learn more about the 2017 projects click here. See summaries of all the water conservation projects conducted since 2013 in Solutions, an annual MnTAP publication. Contact MnTAP if you are interested in an intern in the summer.
Contact Us
Let us know if you are interested in getting involved with MnTAP on any water conservation project around the state, at no cost to your business. For questions or further information, contact:
If you're interested in a cost-effective water conservation intern project, contact: