Resources & Associations for Vehicle Maintenance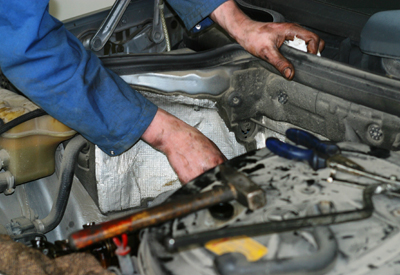 At some point you may need more information, need to ask questions or find out what others think about a situation. Take advantage of your opportunities to get connected. Talking to peers and suppliers to your industry through membership in a trade association can help you solve problems.
Most paint manufacturing and supply companies offer technical assistance and ongoing training to customers. Contact your paint company representative for more information. Local industry leaders are more than willing to answer questions and provide advice to shop owners considering transitioning to waterborne paints or investigating other environmental practices. Pat Mulroy, owner of Mulroy's Body Shop in Minneapolis, and Peter Latuff, owner of Latuff Brothers Auto Body in Saint Paul, were essential participants in MEI's project and both provide a wealth of knowledge and experience on leading industry practices. Other progressive shops made headlines during the 2015 MPCA grant round to reduce volatile organic compounds (VOCs). Their stories are found here.
Numerous resources exist to help small businesses implement energy efficiency, waste reduction, or other environmentally friendly projects or process changes. They may help your facility reduce waste or learn more about pollution prevention opportunities.
Resources
The MPCA's Small Business Environmental Assistance Program (SBEAP) provides information on air quality and other rules affecting auto body shops.
Energy Facts and Recommendations for the Collision Repair Professional [PDF 641KB]. Energy Smart is a program of Minnesota Waste Wise whose mission is to help businesses save money through energy efficiency. By helping businesses take advantage of existing energy utility programs and rebates, Energy Smart helps make the process easier.
U.S. EPA's Energy STAR Program. The Energy STAR Program provides resources to help small businesses save money and protect the environment through energy efficient products and practices.
Technical Assistance
Associations & Other Affiliations