Healthy Food
Overview
Healthcare facilities, particularly hospitals, are working to deliver healthier and more sustainable food choices to patients and the community. By offering more fruits and vegetables, minimizing meat-based meals, purchasing more local and organic foods, reducing or removing fried foods, hosting on-site farmer's markets, and advocating for healthier vending machine options, the healthcare industry is investing in the idea that healthier inputs lead to healthier lives. In addition, these practices can have an environmental benefit. Below you will find project ideas and resources to help you make changes that result in healthier and more sustainable food options.
Healthy Food in Healthcare Pledge – Health Care Without Harm
The Healthy Food in Health Care program was started in 2005 by the national non-profit organizational Health Care Without Harm. The program works with hospitals across the country to "help improve the sustainability of their food services." Their website contains case studies, research, and resources on why and how healthcare facilities can advocate for healthier food options in their own on-site food service operations. They also developed a Healthy Food in Health Care Pledge that hospitals can sign to show their commitment to this important work. As of 2014, more than 500 hospitals and 7 large food service contractors had signed the pledge.
Health Care Without Harm also provides ideas for projects that healthcare facilities can implement to improve the overall sustainability of their food services. Called A Menu of Options, it suggests the following:
Start the conversation about healthy food
Contract with a GPO, distributor, or food service provider that supports healthy food
Institute purchasing policies for meat and poultry raised without non-therapeutic antibiotics
Model local, nutritious, sustainable food at conferences, meetings, and workshops
Buy milk produced without Recombinant Bovine Growth Hormone (rBGH)
Buy organic and other certified food
Consider establishing an overarching food policy
Buy from local producers
Become a fast-food free zone
Limit use of vending machines and replace unhealthy snacks with healthy choices
Host a farmers' market on hospital grounds
Create hospital gardens to grow fresh produce and flowers
Compost, divert and reduce food waste
Buy certified coffee
Practice Greenhealth, Health Care Without Harm's sister organization, also has resources available online pertaining to Healthier Food.
Healthier Food Challenge – Healthier Hospitals Initiative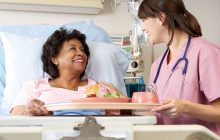 The Healthier Hospitals Initiative (HHI) is a free program available to all healthcare institutions in the U.S. There are six challenges for healthcare: engaged leadership, leaner energy, less waste, safer chemicals, smarter purchasing, and healthier food. The healthier food initiative asks participants to sign the Healthy Food in Health Care Pledge, as well as commit to up to three challenges: the Balanced Menu Challenge, the Healthy Beverages Challenge, and the Local/Sustainable Food Challenge.
Farm to Hospital – Institute for Agriculture and Trade Policy
In 2012 and 2013, the non-profit Institute for Agriculture and Trade Policy (IATP), based in Minneapolis, conducted a large project to study how sustainable farmers can become better connected to hospitals. Using a grant from the Sustainable Agriculture Research and Education project (SARE), the IATP partnered with several Minnesota-based hospitals and sustainable farmers to study barriers and successes for including more sustainable, local, and organic food on hospital menus. The culmination of their study was a Farm to Hospital Toolkit that offers strategies, research, and ideas on how hospitals can become more involved in these efforts. More information can be accessed on IATP's Farm to Hospital webpage.
IATP found a number of benefits from healthcare facilities and sustainable farmers partnering together to make healthy food a priority. Benefits include:
Increased patient and employee satisfaction
Improved public image
Reduced farmer and farm worker exposure to health-threatening chemicals
Improved rural water quality
Improved soil health
Reduced use of antibiotics for routine, nontherapeutic agricultural purposes
Improved economic health for rural communities
New revenue sources for sustainable farmers and producers
More diverse markets for sustainable farmers and producers
Increased access to healthier food
Greater understanding of where food originates and how it is produced
MnTAP's Pollution Prevention Work with Food Processors
Though out of scope for healthcare, MnTAP does work with food processors on pollution prevention strategies. On our Food Processors webpage, you can find links to the following information for food processors:
Waste reduction
Water and waste water
Energy efficiency
Food by-products
Resources and associations
Regulatory information
Case studies and past intern projects